As a seller, receiving a suspension notice for your Amazon Seller Central account can be overwhelming. Managing an Amazon account suspension can be difficult for platform merchants. Suspension of your Amazon Seller Central account may adversely affect your revenue and cause operational disruptions in your company. If you're facing a suspension issue, there are ways to overcome it. Seek professional Amazon account management services, as they can provide expert guidance and support to resolve the suspension and get your business back on track. These services can provide helpful information suggestions, help restore your account and ensure you follow Amazon's rules.
If your Amazon account is suspended, this blog post will direct you through the required steps. We'll offer practical support to help you navigate the reinstatement process, from understanding the reasons for the suspension to creating a successful appeal. Get ready to regain business control and learn how to prevent future Amazon account suspensions.
What Does Amazon Seller Central Account Suspension Imply?
The temporary or permanent deactivation of a seller's account on the Amazon marketplace is known as suspending an Amazon Seller Central account. When Amazon discovers that the seller has broken one of its rules or terms of service, it takes action. This suspension may occur for several reasons, including selling illegal goods, frequent consumer complaints, manipulating reviews, or violating intellectual property rights. Sellers who have their accounts suspended cannot list, sell, or manage their items on Amazon until the suspension gets lifted.
What are the Different Levels of Amazon Account Suspension?

Amazon uses four account suspension types: suspension, deactivation, denial, and ban.
Suspension: In cases of policy infractions or non-compliance, Amazon suspends accounts. Access to the account is then temporarily restricted until the suspension is removed or resolved.
Deactivation: Your account may be deactivated if you repeatedly break Amazon's rules or engage in serious misconduct. Once this happens, your account will be permanently disabled and cannot be restored. To reactivate a deactivated account, you must provide detailed explanations and put in much effort.
Denial: If Amazon determines that a suspension should remain in place, it will reject any appeals for reinstatement. To address the fundamental problems, sellers must offer convincing proof and suitable remedial measures.
Ban: If a user proves to be engaging in fraud or selling phony goods, Amazon will permanently suspend their account. An account that has been suspended cannot be reactivated.
To resolve account suspensions, sellers must understand the specific reasons behind them. In the event of an account suspension or deactivation, restoring access through appropriate appeals and corrective measures may be possible. However, if an account has been rejected or banned, it may not be feasible to reinstate it.
Why Does Amazon Suspend Accounts: Reasons
There are various reasons why an Amazon Seller account can be suspended. Some common reasons include: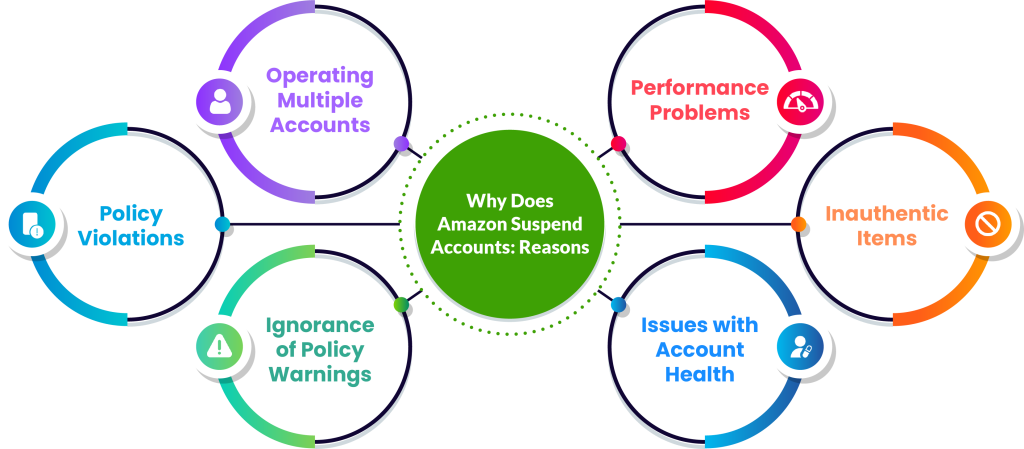 Policy Violations: If sellers violate Amazon's policies regarding listing, product, or price, they may face suspension. Examples of such violations include selling illegal goods, writing fake customer reviews, or engaging in fraud.
Performance Problems: Amazon establishes performance requirements for sellers, and failing to adhere to them may lead to suspension. It may involve a high percentage of order defects, delayed shipping, or numerous customer complaints.
Intellectual Property Infringement: If a seller sells counterfeit or illegal goods, their account may get suspended due to infringement of intellectual property rights.
Issues with Account Health: Suspension may also result from problems with account health, such as giving false or misleading information.
Inauthentic Items: Selling faulty or counterfeit items might lead to account suspension because doing so goes against Amazon policies and erodes customer confidence.
Violation of Communication Rules: Sellers must follow Amazon's communication rules when dealing with buyers. Suspension may result from transgressions, including contacting consumers outside Amazon's chat platform.
Operating Multiple Accounts: It is another frequent cause of suspension for Amazon Seller accounts. Amazon forbids sellers that have several accounts without permission. Using multiple accounts for fraudulent purposes, manipulating sales data, or violating regulations is prohibited on Amazon. Any seller caught managing multiple accounts without proper disclosure or authorization may face account suspension.
Ignorance of Policy Warnings: Suspension may come from disregarding or failing to resolve prior policy warnings effectively.
To avoid getting suspended, sellers need to become familiar with Amazon's rules and regulations and comply with them. Identifying the specific reason for the suspension and taking the necessary steps to get reinstated is crucial.
How to Regain Access to Your Amazon Seller Central Account?
When you discover that your Amazon seller account is suspended, you must begin to communicate with Amazon. There are crucial points to remember while doing so. Keep in mind that it is beneficial to behave oneself calmly and ethically.
Consider carefully the primary justification for your suspension, as stated in your notification. Recognise the rules that you broke if Amazon claims you have done so and how you did so. This is crucial as you must prove to Amazon that you now understand what you did wrongly. Additionally, you must lay out an accurate strategy to ensure Amazon can have confidence in its ability to correct its errors. Finally, you must demonstrate to them how you will be watchful enough to avoid repeating the same mistakes or transgressions.
Follow these procedures to get your Amazon Seller Central account back:
Determine the Cause of the Suspension: Examine the email or notification you received from Amazon regarding the suspension in detail. To treat the suspension appropriately, one must comprehend the precise cause.
Review Amazon's Policies: To guarantee compliance, familiarize yourself with Amazon's rules and regulations. Determine any locations where you may have broken their rules and make the necessary corrections.
Plan Your Course of Action (POA): Create a thorough, convincing plan for submission to Amazon. Explain the underlying source of the problem, the procedures you took to fix it, and the precautions you took to be sure it won't happen again. Be explicit, offer proof or additional paperwork, and prove your adherence to Amazon's rules.
Appeal Through Seller Central: Log into your Seller Central account and go to the Performance Notifications or Performance Notifications Dashboard. Find the suspension notice, then select the option to submit an appeal or plan of action. To submit your Plan of Action, adhere to the guidelines.
Be Consistent and Responsive: Amazon may ask for clarification or more details. Answer any requests or questions from the Amazon Seller Performance team thoroughly as soon as possible. Demonstrate your commitment to finding a solution and upholding high-performance quality.
Get Professional Help: If you cannot address the problem on your own, you could think about hiring an expert with knowledge of Amazon suspensions or a specialized Amazon appeal service.
Monitor Contact Lines: Be on the lookout for any updates or requests from Amazon by monitoring your email, Seller Central messaging, and other contact lines. Keep the channels of communication open and give fast responses.
Ways to Prevent Your Amazon Seller Account Suspension
Follow these instructions to prevent your Amazon account from being suspended: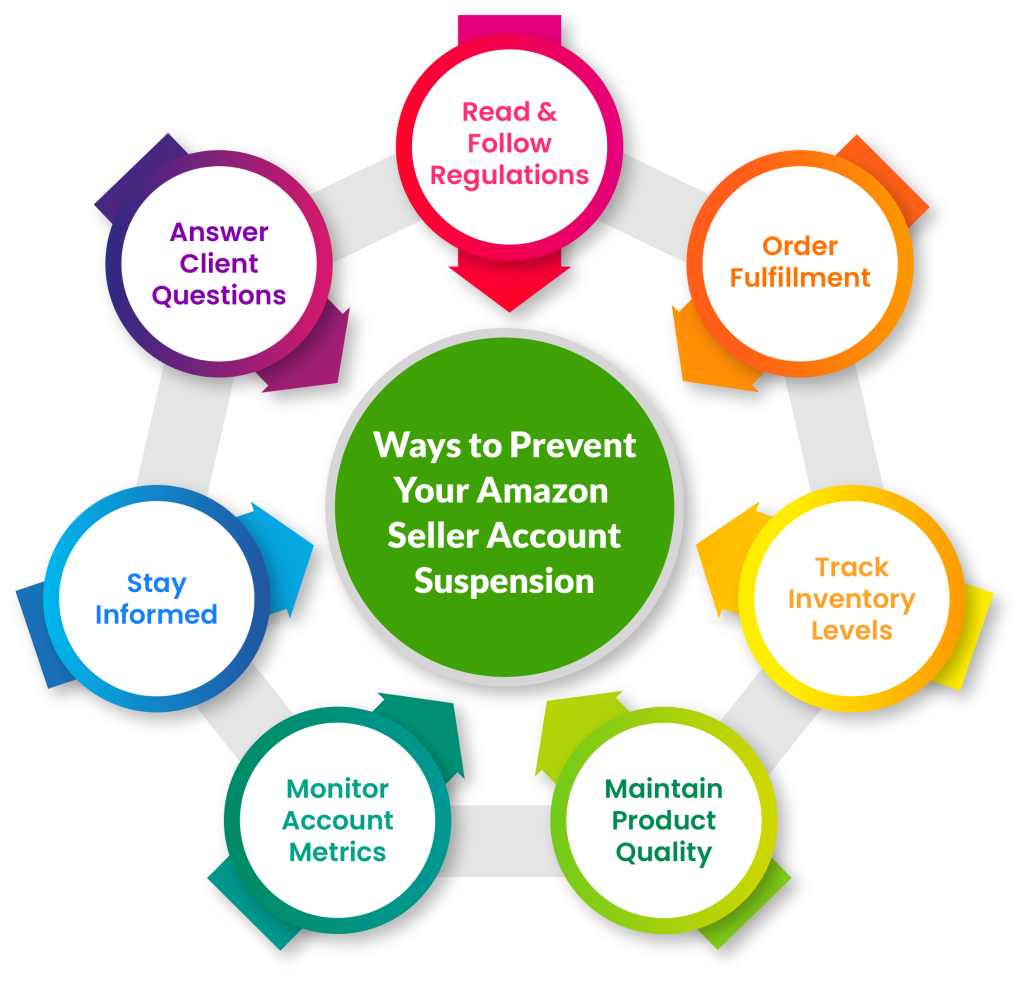 Read & Follow Regulations: Learn about the rules, regulations, and terms of service of Amazon. To maintain compliance, stay informed about any changes to the policy.
Maintain Accurate Product Information: Ensure precise and complete Amazon product listings, including titles, descriptions, photos, and characteristics. Avoid providing inaccurate or misleading information that can result in angry customers or policy breaches.
Order Fulfillment: Ship items within the allotted handling time as soon as possible. To guarantee prompt delivery, use dependable shipping techniques and give tracking information.
Track Inventory Levels: Keep an eye on your supply to avoid running out. It is essential to avoid canceling orders due to low inventory, as it can hurt your seller KPIs and customer satisfaction.
Maintain Product Quality: Provide items of the highest caliber that satisfy consumer demands. Keep an eye on client feedback and reply fast to any quality issues.
Answer Client Questions and Concerns: Answer client messages and questions promptly and courteously. Strive for client satisfaction by swiftly addressing any problems or issues.
Monitor Account Health Metrics: Regularly reviews your seller metrics—such as the rate of order defects, the percentage of late shipments, and customer feedback. Take aggressive steps to raise performance in areas that exceed Amazon's expectations.
Stay Informed: Keep abreast of any updates to Amazon's policies, rules, and seller news. Review Amazon's communications often, then modify your business procedures as necessary.
Conclusion
If your Amazon Seller Central account is suspended, don't worry. Restoration is possible. Understanding why suspensions occur, creating a strong appeal, and taking proactive measures is essential. If you feel overwhelmed or need professional advice, consider hiring a specialist.
At MMF Infotech, we specialize in providing comprehensive Amazon account management services to help merchants like you regain control and achieve long-term success on the site. Our expert team is well-versed in Amazon's rules and regulations and can handle account suspensions precisely and successfully. We offer customized solutions tailored to your needs, from crafting compelling appeals to implementing preventive measures and optimizing your account for sustainable growth. Don't let a suspension hold you back.