Amazon Attribution: Manage All Your Advertising Campaigns with One Single Tool
Marketing your products through different mediums can increase sales as an online seller. Overseeing all customer analytics of non-Amazon advertising channels can be challenging. On top of that, you are already managing your business. You can audit how your Amazon products are progressing by using Amazon attribution.
As stated in statistics, more than 80% of Amazon sellers also advertise outside of Amazon. Amazon introduced Amazon attribution, which tells how your off-Amazon advertising channels perform. It explains the effect of your marketing strategies on Amazon sales.
Read further to learn Amazon attribution and how you can use it to generate strong Amazon sales.
What is Amazon Attribution?
Amazon attribution is a free-of-cost tool that allows registered sellers to track statistics. It helps monitor Amazon products from non-Amazon advertising mediums. It includes stats such as product page views (DPV), purchases, and sales. 
You can determine which platforms are most profitable for your business. In the words of Amazon, they created Amazon Attribution to help enterprises to do these things:
Measure:

Understand the overall impact of your cross-channel digital marketing activities.

Optimize:

Use on-demand advertising analytics to make adjustments to maximize impact and efficiency.

Plan:

To plan future marketing strategies that can maximize Amazon sales.
What Metrics Can You Track with Amazon Attribution?
You can track these metrics to assess your off-Amazon advertising campaigns: 
Impressions:

Impression raises brand awareness when your Amazon product ad becomes visible to a user.

Click-through Rate:

The Click-through rate is the total number of times customers click on your ads. It may contain links, pictures, or videos that take them to your Amazon product page.

Detail Page Views:

The detail page views register the number of visits to your product page after a user clicks on your non-Amazon ad link.

Add to Carts: Add to carts displays how many times the user added the product to the cart after clicking on your Amazon products' off-page ad link.
Purchase Rate:

The proportion of the purchases compared to the number of impressions.

Product Sales:

Product sales denote the total Amazon sales of the product after users viewed the Amazon product's advertisement.
Which Amazon Attribution Features are the Most Intriguing?
Amazon Attribution is not a mere tool for tracking metrics only. You can take advantage of many features in your off-page Amazon advertising journey. You should try out the following features: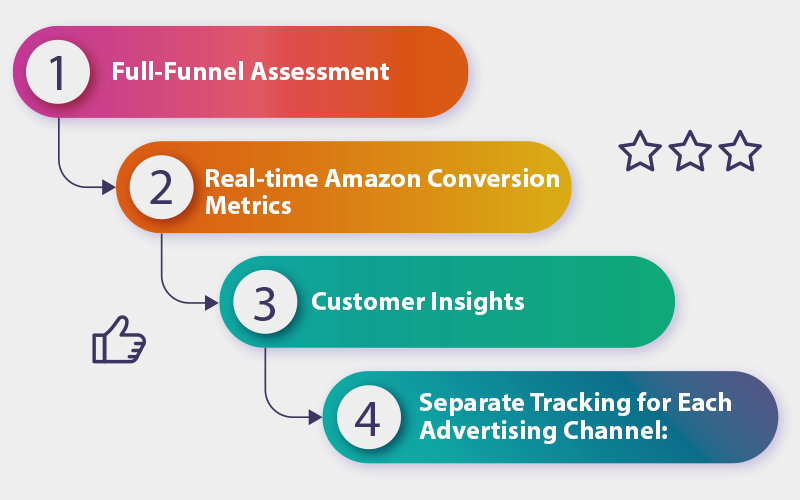 1.Full-Funnel Assessment: It doesn't confine you to conversion data. You can delve deep into how a user engages with your Amazon products. This includes data like click-throughs, detailed page views, and add-to-carts. When using this tool, the number of available sales funnel data points also increases. 
2.Real-time Amazon Conversion Metrics: You can check the effectiveness of campaigns in real-time. This feature allows you to optimize your business's marketing activities.
3.Customer Insights: Businesses can understand customers' behavior thanks to Amazon attribution data. This feature can give you valuable information like:
What is the time when most customers visit your website?

Do customers add your products to the shopping cart immediately?

Are customers interested in your other products?

Do the customers make any purchases?
Apart from this info, you can get more clues about your customer's behavior.
4.Separate Tracking for Each Advertising Channel: With this feature, you can create individual tags for each advertising channel. You can make hundreds of tags if you have detailed data on each channel's performance. It doesn't matter if you create tags for Facebook ads, Google AdWords, blogs, or social media posts. You can create tags irrespective of the platform.
How to Set-Up Amazon Attribution?
You must know that only an Amazon registered seller or vendor can set up Amazon attribution. To begin using this tool, follow these steps: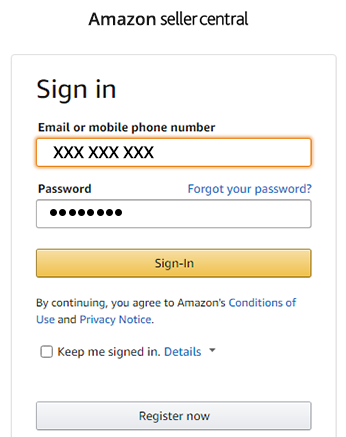 1.Visit Amazon Seller Central and Log in to Your Account
Following your successful account login, go to sellercentral.amazon.com/attribution. Click on the Sign-Up form button. Click "Register" after filling out the form to submit it.
2.Wait for Invitation Mail from Amazon DSP Support
After receiving the mail, click "Accept Invite and Sign Up." Now, you can log in to the Amazon Attribution self-service console. If you don't receive such mail, check the spam or ask to resend the mail from the Amazon attribution page.
3.Start Creating Attribution Tags
The user management feature can involve ad managers and affiliate agencies. It will help you to manage the account and track conversion metrics. Finally, you can start creating attribution tags. By following these steps, you can generate attribution tags:
Navigate to your Amazon Attribution account.

Select the advertiser's name from the drop-down menu.

Click the "New Order" tab.

Choose "Upload file to create order and tags." It is suitable for Instagram, Facebook, or Google campaigns."

Select "Manually create order and tags." It is usable only for campaigns on platforms other than Facebook, Google, or Instagram.

After uploading the file or creating it, you can see the products the advertiser sells.

Head to the "Order Settings" section. Give a distinct name to the attribution tag to avoid confusion with tags for other campaigns.

From the "Publisher" drop-down menu, Select the platform, i.e., Facebook, where you will place the link. If the publisher's name isn't available in the list, click "New" and then add the publisher's name.

Once you complete all the previous steps, you have generated the attribution tag. Once your campaigns are live, you can track and measure their performance. You can access the reports on the self-service console's reporting insights dashboard. Its reporting adheres to a 14-day timeframe and the last-touch model.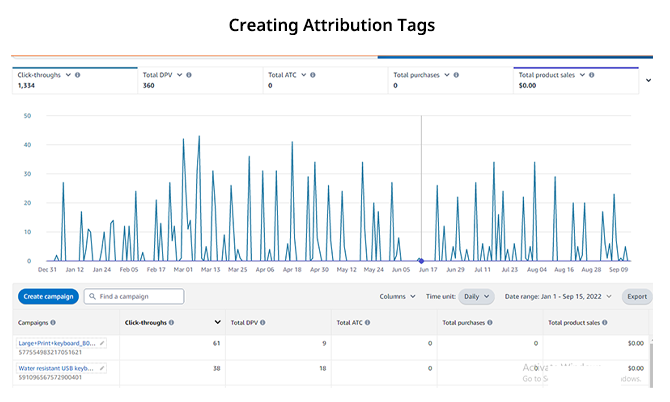 Amazon attribution is an effective cost-free method to keep a check on how your external traffic performs on Amazon. You can boost your advertising quality with this one-stop solution for different platforms. 
There aren't many ways to assess the effectiveness of your advertising for external traffic. We recommend using Amazon attribution if your target is external ad campaigns. It's currently in beta testing and is accessible only in the US, Canada, Mexico, the UK, Germany, France, Italy, Spain, and the Netherlands. Configure your Amazon attribution account now to get more traffic.
Want industry leaders Working On Your Project?