Boost Your Sales with the Help of Effective Amazon SEO Ranking Optimization!
Usually, we solely consider Google when we think of SEO. Of course, you also want to appear higher in the search results. However, you may offer your product in additional online locations besides your website. Similar to how you would like our website to appear on the first search engine results page (SERP) for your industry-related keywords, you want customers to be able to find your product pages on Amazon. Hence we provide you a manual guiding you through Amazon SEO.
Misusing Amazon SEO services will lower traffic and decrease sales like traditional SEO. It's critical to comprehend how Amazon SEO Ranking Optimization differs from Google and Bing regarding how it surfaces results. Compared to standard SEO, there are fewer ranking signals or considerations.
You may believe that ranking on Amazon is easier to obtain, but this is not the case. You will struggle if you attempt to study Amazon SEO services from a web-SEO point of view. That's because Amazon is, first and foremost, a platform for online purchases.
Here is a step-by-step manual with advice and illustrations for optimizing your SEO ranking on Amazon so you can reach more people.
How does Amazon SEO Function?
Amazon product listings optimization ensures Amazon product listing seo to appear higher in product searches on Amazon. A few easy measures can increase sales, enhance product search listings, and make it easier for customers to find your brand.

Being an Amazon seller, you can use Amazon SEO Ranking Optimization strategies to:
Drive more traffic
Enhance product & brand visibility
Boost conversion rates
Know-How Amazon Search Functions!
Similar to Google, Amazon analyses the search results using a complex algorithm. This fundamental search engine is called the A9 algorithm. It uses many parameters to determine how well millions of products in its database match the consumers' search queries.
You need to understand how Amazon search functions before we can discuss the many strategies to enhance your Amazon product listings optimization. Typically, this comprises the search results page for Amazon, the many categories there, promoted products, and search filters.
1. Amazon's Search Result Page
The mechanism used by Amazon Seller Central to categorize its products is extensive. There are two ways the items are shown on the result page when a user or customer searches on Amazon: Visit this comprehensive manual to learn more about Amazon Seller Central.
List View: It features 15 – 16 products on every single result page.
Gallery View: This layout type has about 24 – 25 products on every result page.
This expertise is required to categorize the product utilizing these views and filtering correctly. 
2. Amazon's Sponsored Products
It is a crucial category in Amazon's search results. The sponsored product results are typically displayed at the top of a product page or occasionally with the organic results. They can be found dispersed over various pages.
You will need to optimize the sponsored Amazon product listings optimization and use the appropriate keyword bidding techniques. Your goods will be listed on the First Page of the supported products by using the proper Amazon SEO tactics and PPC campaigns.
3.Amazon's Search Filters
The product category, seller rating, shipping method, brand, color, and product condition are just a few of the criteria available. The Amazon algorithms are clever.
If specified in the Amazon product listing seo, they are made to recognize whether a product is black or brown. The product is only eligible to be presented in the subset of the filter query when this information is included in the listing copy.


Acknowledge Amazon's A9 Ranking Algorithm
The algorithm used by Amazon to search for products is known as A9. It's an algorithm developing and will only get more complicated, as was already indicated. However, it appears to work on a simple keyword search strategy with little consideration for how well a product fits the query.

The search results are shown using the terms entered in the search field using Amazon's A9 product ranking algorithm. The outcomes are influenced by previous client purchases, buying habits, and other elements.
How does the A9 Algorithm Work?
The algorithm decides which goods to display to prospective customers and how high those products can rank based on several factors, including:
Relevance to search terms or keywords

Consumer preferences and behavior in the past.

The volume of prior purchases of a specific commodity.
There are many other considerations besides those mentioned above. Since A9 is a top corporate secret of Amazon, its capabilities cannot be precisely ascertained. The complexity of the algorithm might be worth billions of dollars. So, the secrecy surrounding how it operates is effectively preserved. But you can figure out how it works with a few trials, and that's exactly what we'll show you here.
What Elements Affect The A9's Search Results?
The elements of Amazon A9 can be divided into two key categories:
Explicit
Cost 
Stock Level 
Relevance of Text
Inexplicit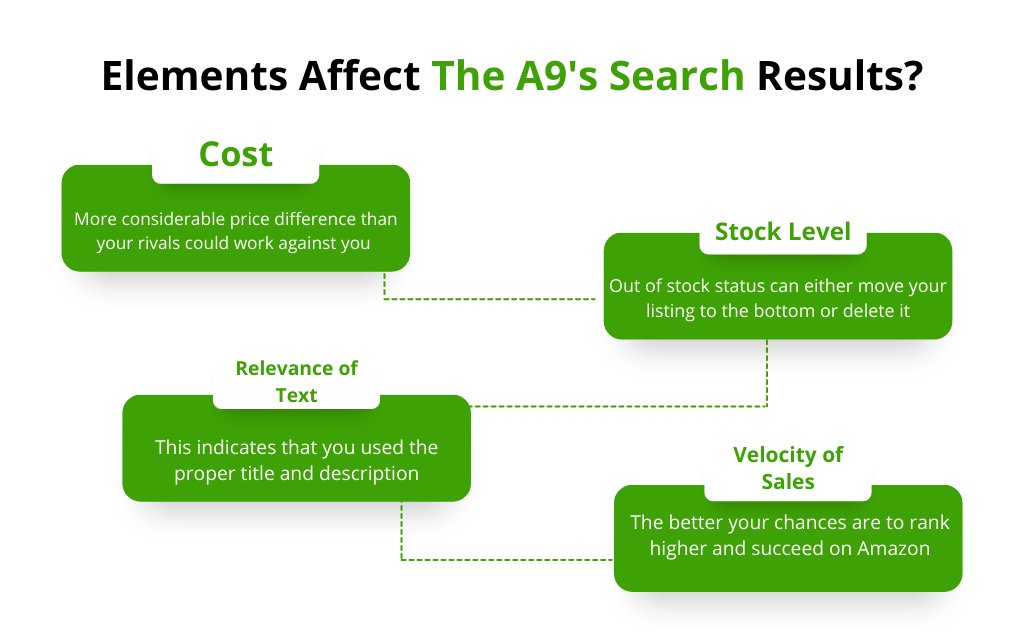 How To Optimize Your Amazon Product Rankings?
How can Amazon Sellers distinguish themselves from the competition? Learn more in this in-depth manual on performing your own Amazon SEO!
Here are some pointers and techniques for dealing with Amazon's A9 ranking criteria and methodically enhancing the outcomes:
Step 1: Title of an Amazon Product
A product title should include the following, in consonance with Amazon:
Brand
Product
Material
Quantity
Color
Note: A product title in an Amazon search can only be 100 characters long. This does not permit you to cram it with too many keywords. Keep it enticing, concise, and still optimized.
Step 2: Researching for Amazon Product Keywords
Choose the most appropriate keywords for the product(s) you are offering. You may do this with the right approach by spotting the best-selling items in your category. Identify and extract the keywords from them.
Keeping in mind the broader picture, use Amazon SEO services to boost your game and attract qualified traffic to your listing. Usually, this entails optimizing for the search terms they use.
Step 3: Cost of Amazon Product Price
Product cost is undoubtedly one of the most crucial performance criteria influencing purchasing decisions. You shouldn't be overly pricey compared to what your competitors offer on the market because doing so will significantly lower your sales. Always strive to undercut or match the price of your rivals. To throw out the small fish, try to reduce the costs to absurd levels.
Step 4: Amazon Product Images
One of the most crucial sales arguments is this one. Never overlook the power of images. Critical factors in driving sales are product images. Although they have little direct impact on Amazon SEO Ranking Optimization, they have a significant impact on lowering bounce rates.
To activate its "zoom" feature, Amazon advises selecting more prominent photos – at least 1000 pixels in width or height. Develop a new image tactic to move your product to the top of the Amazon search results.
Step 5: Amazon Product Description
The product description influences the buyer to buy besides the other vital factors. Therefore, it is crucial to emphasize the advantages of the product.
Again, the appropriate keywords should be used here, emphasizing persuasive and emotional reasons.
Step 6: Features Of Amazon Products In Bullet Points
Presenting products in paragraphs might have two drawbacks when creating a product description, including:

Because they are ambiguous, difficult to understand, and confusing, potential searchers and purchasers despise them. As a result, using them will only decrease your conversion rates and sales, as well as your exposure and visibility in the Amazon search results.


The A9 algorithm on Amazon dislikes long passages or walls of text. Instead, he prefers it to be presented as bullet points because they are more straightforward, transparent, and easier to sort through and classify.
Step 7: Stock Availability of Products
Making sure your product never goes out of stock is essential because doing so might cost you your ranking on Amazon.
If you use Amazon FBA, you may set up automatic reminders to notify you whenever your product inventory drops below a specific point, and you need to restock.


You can use independent stock management tools if Amazon is your only marketplace. On the other hand, use multichannel sync services to help you synchronize your inventory if you are selling your goods across multiple websites. This will prevent your stock from ever going down to zero.
Step 8: Backend Search Keywords for the Product
The following are crucial components to include in your backend:
Search terms or keywords you could not use in your description or title.
Your product's misspellings or relevant keywords.
French or Spanish translation of your product description.
Shoppers may also check for different synonyms.
Step 9: Product Reviews And Ratings
Concerning Amazon SEO Ranking Optimization, a product's ratings and reviews guarantee a subtly higher ranking.
The worth of the product increases with the number of positive evaluations. This, in turn, affects conversion rates and click-through rates. The ratings of other users and buyers also reflect this.
Step 10: Apply Amazon FBA to Your Product
Your monthly fee for a Professional Seller Account is $39.99. Although this may seem a bit expensive at first glance, it is worthwhile. You are no longer required to pay the $1 fee per product that you were paying when you had an Individual Seller Account.
A professional seller will have a better chance of being seen on the Amazon SERPs and help you get the Buy Box with Amazon FBA.
When your Amazon product listings optimization is done correctly, your product's discoverability and desirability will increase by about 80%. The procedure, however, doesn't stop there. To continue appearing in the top results, one must stay current with trends, algorithm changes, and continuous optimization.
Thanks to this post, now you are far ahead of most sellers. Now that you know the name of the search algorithm used by Amazon, you are also well-versed in its operation. Without using an Amazon product ranking service, you are also dangerously knowledgeable about the various elements of a product description page and how they might affect your position in the search results. The best part is that you have doable measures you can take right away.
With a well-planned SEO strategy, boost your sales beyond your wildest expectations & keep dominating your industry.
Want industry leaders Working On Your Project?