There are two primary choices for fulfilling orders while selling goods on Amazon: Fulfilled by Merchant (FBM) and Fulfilled by Amazon (FBA). With FBM, you or related parties handle order fulfillment and storage. With FBA, Amazon will take care of order fulfillment and warehousing for you. It also offers you Amazon FBA reimbursement service. Dropshipping is categorized under FBM.
Dropshipping is a distinct business strategy as you never acquire the privilege of goods. Instead, you merely set it for sale, monitor it to market, and then transmit the demand to your supplier. It, therefore, simply needs a small initial outlay.
Which fulfillment procedure, yet, is most influential for your Amazon business?
Describe Amazon FBA.
FBA is an abbreviation for Fulfillment by Amazon, which directs to a service offered by Amazon that manages all warehousing, order fulfillment, refunds, and customer support for merchants. Ninety percent of merchants use FBA, making it probably the most common fulfilment option.
FBA is a fantastic approach to managing your Amazon business, regardless of whether you market private label brands, unbranded goods via retail arbitrage, or buy in bulk. Amazon FBA reimbursement service is provided under the Amazon FBA concept. It is a suit that you submit to Amazon to ask for the money that Amazon owes you due to errors on your account.
Benefits and Drawbacks
FBA is a robust fulfillment service with lots of benefits for merchants. FBA has certain drawbacks in addition to all its benefits. Let's review them now.
Benefits:
Amazon picks, packs, and ships the merchandise sellers deliver to its fulfillment centers.
After Amazon ships your goods, the Prime shipping label immediately appears on your product listings.
Having the Prime symbol can increase customers' confidence in your goods. The client is aware that they will obtain their order in two days.
Amazon will handle all client assistance for Amazon-fulfilled orders.
Amazon will process your return and refund if a client has to return the item.
Multi-channel fulfilment is a method that merchants can utilize to meet demand from other e-commerce websites.
Drawbacks
The dimensions and weight of the merchandise will determine how much FBA fees will cost.
In addition to FBA fees, sellers must pay monthly service costs and possible prolonged storage service charges if merchandise is kept for more than one year.
Amazon imposes resupply limitations for each storage option. Therefore, businesses might be unable to put in as many goods as they'd like.
Amazon might misplace part of the product in the receiving procedure; nevertheless, remember that they will pay you for any misplaced goods.
Describe Drop Shipping
Dropshipping is listing an item for sale and having it delivered by a supplier or producer without first purchasing stock. Dropshipping is a well-liked marketing strategy among Amazon, eBay, and Shopify merchants because it is simple to begin and doesn't require a sizable initial investment.
Amazon allows retailers to dropship things, although there are rules you should abide by, or Amazon will terminate your membership. For instance, Amazon forbids merchants from dropshipping purchases from Walmart and other merchants.
All receipts, packing papers, and external packaging should bear the sellers' names; they should not list the distributor or producer that supplied the item for shipment.

Benefits and Drawbacks
Because it doesn't cost significant funds to begin, this marketing strategy appeals to several aspiring new e-commerce businesses. However, there are some factors you must take into account before determining whether or not to start dropshipping. Let's discuss the benefits and drawbacks.
Benefits:
Low initial expenses compared to other marketing strategies including private brand or retail – no need to purchase products in large quantities and invest hundreds of dollars up advance.
Finding goods from a vendor and listing them on Amazon makes it simpler to begin.
Dropshipping is permitted on Amazon but adhere to their dropshipping rules.
Drawbacks:
There is significantly greater competitiveness because it is much simpler to begin dropshipping.
You can have delays in delivery depending on the producer or distributor you're dealing with.
There isn't any method by which you can regulate the quality of the merchandise you're offering since they will be sent straight from the manufactory or supplier. Obtaining specimens via your provider is advised before determining whether to utilize them.
What Distinguishes Amazon FBA vs Amazon Drop Shipping?
The only difference between these two fulfillment strategies is who acquires the stock. These allow you to delegate the process of fulfilling consumer purchases to another business.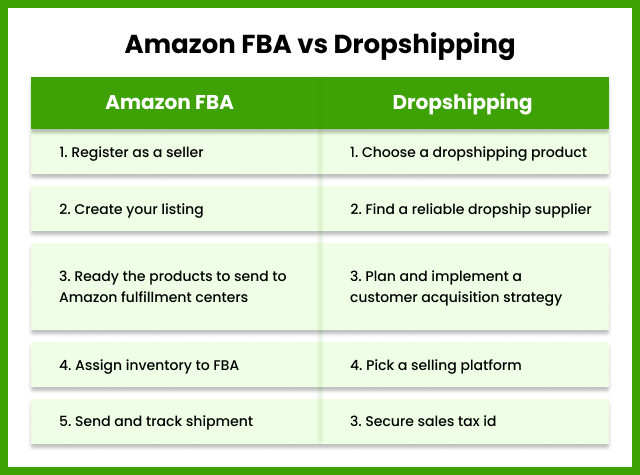 Amazon FBA vs dropshipping are very different because, with FBA, you possess the stock and use Amazon's fulfillment system to manage your shipments. You would make a substantial initial purchase with a manufacturer while distributing private label products and then ship that stock to an Amazon FBA fulfillment center.
When you prefer dropshipping, you wait to make payment for goods until a consumer places an order. When you receive a purchase order, you purchase with your provider, who will then deliver the item to the client. This process begins with you listing an item for sale.
While using FBA, Amazon will take care of refunds and customer support on your behalf.
You continue to use the FBM fulfilment option on Amazon when dropshipping, putting you in charge of refunds and customer support. Refunds cannot be returned directly to the distributor or producer.
Amazon FBA vs Drop Shipping: Which Business Model is Ideal for Your Company?
Choosing the business strategy that will work best for you as an Amazon seller is up to you. Dropshipping and Amazon FBA are the two most potent tactics for building online sales performance. As a cutting-edge solutions provider, MMF Infotech is readily available to assist businesses with Amazon FBA and Amazon dropshipping with its leading top-notch services.
Dropshipping is an inexpensive initial investment, but it comes with lengthy shipping dates and minimal control over the quality of your products. With FBA, Amazon handles all client support and completion duties, and your listing will also obtain the Prime Shipping badge!