The Ultimate Guide to Selling Internationally with Amazon Global Selling!
The pandemic has sped up the global expansion of online commerce, which was already inevitable. For the first time, a record number of consumers globally are turning to Amazon Global Selling to meet their everyday shopping needs. Brands of all types and sizes have responded by realizing that the increase in traffic from across the world presents a chance to use Amazon's extensive network to enter new foreign markets in the Middle East, Europe, Asia, and North America.
Many brands that would not otherwise be able to access international markets are now able to expand thanks to Amazon's Global Selling program globally. We'll review Amazon's Global Selling program and how to sign up in the below sections.
What Do You Understand by Amazon Global Selling?
An efficient and straightforward approach to launching and growing a sizable e-commerce export company in India is through Amazon Global Selling. You can directly access more than 300 million customers globally thanks to the tools and services offered by Amazon Global Selling. Whether you are a manufacturer, a reseller, or an up-and-coming brand, you can sell internationally on Amazon. Learn more about Amazon registration and how to sell internationally on Amazon below.
Amazon provides sellers tools and services that simplify all aspects of selling internationally on Amazon Seller Central. Making these choices for the market in your own country can be similar to deciding where and what to sell abroad. When selling abroad, there are a few more factors to consider.
Utilizing the "4 P's" marketing framework—Product, Price, Placement, and Promotions—is one technique to assess an entry plan for a global market. Let's examine each from the perspective of an international Amazon seller.
Product

: Picking what to sell?

Price

: Deciding & Modifying your Pricing

Placement

: Optimizing your avenues of distribution

Promotion

: Adding appeal to your listings
Know How to Sell Internationally on Amazon?

Although Amazon's network makes it easier to sell internationally on Amazon, it's more complex than simply listing your products in a different country. Brands that choose to expand internationally should prepare to spend time navigating potential obstacles such as taxes, shipping constraints, customs, product rules, and language limitations. You can manage these issues without suffering serious setbacks by taking the actions listed below.
marketplace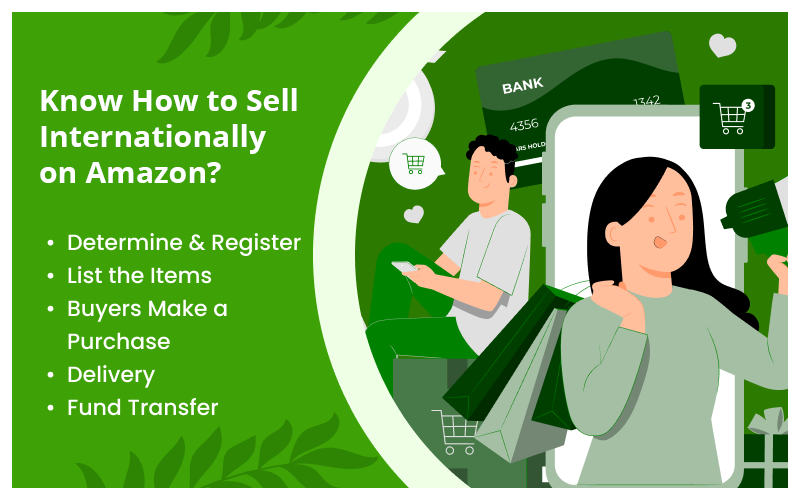 Setting Up Your Market (s)
Choose the appropriate Amazon global marketplace(s) for your brand to start. There are 17 separate locations worldwide as of 2021:
Americas

US:

Amazon.com

Canada:

Amazon.ca

Mexico:

Amazon.com.mx

Brazil:

Amazon.com.br



Europe

Germany:

Amazon.de

France:

Amazon.fr

Italy:

Amazon.it

Spain:

Amazon.es

Netherlands:

Amazon.nl

United Kingdom:

Amazon.co.uk
Middle East

Turkey:

Amazon.com.tr

Saudi Arabia:

Amazon.sa

UAE:

Amazon.ae
Asia-Pacific

Indonesia:

Amazon.in

Australia:

Amazon.com.au

Singapore:

Amazon.sg

Japan:

Amazon.co.jp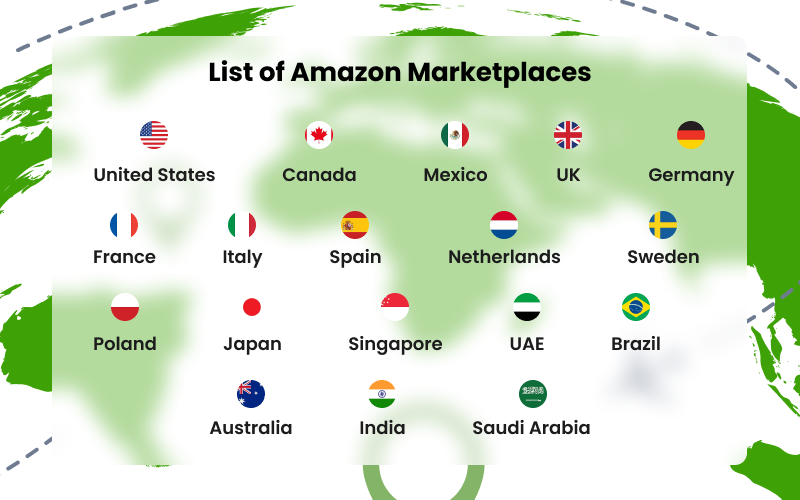 Each of these amazon global marketplaces has both advantages and disadvantages; some have just been introduced, while others have been around for a while. Choosing a well-established market gives you access to a sizable clientele while equally providing fierce competition. Conversely, a freshly formed Amazon global marketplace has limited competitors and few visitors, allowing you to establish your brand on Amazon and gain traction while spending less on promotion.
Enroll for an Amazon Seller Account
Regardless of the amazon marketplace you want to sell on; you must first create an Amazon Seller Central account to sell on Amazon globally. For individuals who already have an amazon seller account, you must open a brand-new account for each marketplace you wish to use. However, sellers who already have a North American or European account have access to unified account capabilities, which enables them to reach more countries in their region with a single account and without paying additional setup costs.
For instance, if you have a unified seller account in the UK, you may use it to browse markets in Germany, France, and Italy without paying additional fees.
Because a seller has a unified account, their listings only automatically appear in various Amazon global marketplaces, but they have rapid access to create listings there.
Once you've decided how to register, you'll need the information below to finish the registration process.

Business name

Credit card number

Phone number and email address

Bank account information

Tax information



Pick Your Fulfillment Channel
But is Amazon Fulfillment (FBA) worthwhile? By picking Fulfilled-by-Amazon, you can avoid all of it (FBA) as your means of satisfaction. Enrolling in FBA will shorten your shipment time and guarantee that your products are eligible for Amazon Prime. Amazon will be in charge of all returns and localized customer service. Your products are kept at fulfillment centers when you use Amazon FBA, and Amazon handles picking, packing, shipping, and customer service.

But is Amazon FBA worthwhile? By selecting Fulfilled-by-Amazon, you can avoid all of it (FBA) as your means of satisfaction. Enrolling in Amazon FBA will shorten your shipment time and guarantee that your products are eligible for Amazon Prime. Amazon will be in charge of all returns and localized customer service. Your products are kept at fulfillment centers when you use Amazon FBA, and Amazon handles picking, packing, shipping, and customer service.

Currency, Fees, Taxes, and Languages
When selling overseas on Amazon, it is advisable to use Amazon's Currency Converter for Sellers (ACCS), as different countries use different currencies. Amazon marketplace will impose a 4% fee, but vendors can avoid paying it by opening a bank account in each country where they conduct business. The money will be deposited into your account in the currency you use, but you will receive payments from overseas clients in their native currencies.
Global business transactions will also involve taxes, which vary from nation to nation. Because of this, you must thoroughly research the taxes you will pay in the nations where you sell, and it is a good idea to hire a professional to accomplish this task.
Consider your ability to function in the local language before expanding your brand into a new Amazon marketplace. Local language proficiency is required for conducting country-specific research and placing your products appropriately with better names, descriptions, etc.
By giving you a familiar interface that is easy to learn, Amazon's Seller Central Language Switcher enables companies to manage their operations in all of these Amazon global marketplaces in English. This enables you to get up to speed on your international business rapidly.

List Your Products
You must have the following data on hand when listing products on Amazon.

Product images

Product ID

Search terms

Product Title

Product Description

Bullet points



All marketplaces do not have space for bulk listing, so there is no way to automatically have your products listed there. Translating your listing into the local tongue might also be necessary, and there is an alternative to using Google Translate. Local keywords pertinent to the market must also be added for organic ranking.

Get Your Products Retail Ready
No matter the market, a solid marketing strategy will help assure a successful launch of your items. Making yourself retail-ready first should be your first focus. As part of this, you should optimize your content, use the right keywords in your listings, set up your Prime delivery offer, and more.
Note: Reviews are particular to the platform where you sell; therefore, they won't transcend.
Sell Internationally on Amazon with MMF Infotech
Setting up your Amazon seller accounts to sell abroad can be a bit confusing for some sellers as it requires deep knowledge about various factors such as marketing, shipping, fulfillment, and customer service. That's where MMF Infotech lands the helping hand you are searching for. So, if you are looking for assistance connect with the best amazon marketing agency which will ease up your Amazon Global Selling operations.