A key tactic for boosting the value of your brand and encouraging customer loyalty on Amazon is the use of unique content. If you've already installed Amazon A+ Content and Enhanced Brand Content, it's time to move on to Amazon Stores.
Let's start with the fundamental question: What is an Amazon Store? Amazon provides this valuable, cost-free service that enables companies to prominently showcase a carefully curated selection of products. These stores offer a better shopping experience, accessible on both PCs and mobile devices, all under the Amazon brand.
Amazon Stores provide a versatile and visually engaging way for you to present your products and establish your brand's presence. They give sellers a dedicated space on Amazon to share their brand story, showcase their product catalog, and create a branded shopping experience.
Amazon Stores elevate shopping with:
Leveraging various sources of traffic, both internal and external.
Potentially boosting your products' organic search ranking on Amazon and increasing sales.
Offering the opportunity to showcase new products to your existing customer base.
Opening doors to introducing your brand to new audiences.
You are providing a better mobile shopping experience with your brand on Amazon.
Amazon Stores allow brands to maintain their unique identity on the world's largest online marketplace. These benefits alone are compelling reasons to invest in Amazon Stores. Investing in Amazon Stores preserves brand identity in the vast online marketplace and secures it in a competitive landscape.
Who can Benefit from Amazon Stores?
Registered brands can benefit from having a one-stop shop on Amazon to showcase their products. It not only helps in product visibility but also strengthens brand identity.
Create Amazon Store: A Step-by-Step Crafting Guide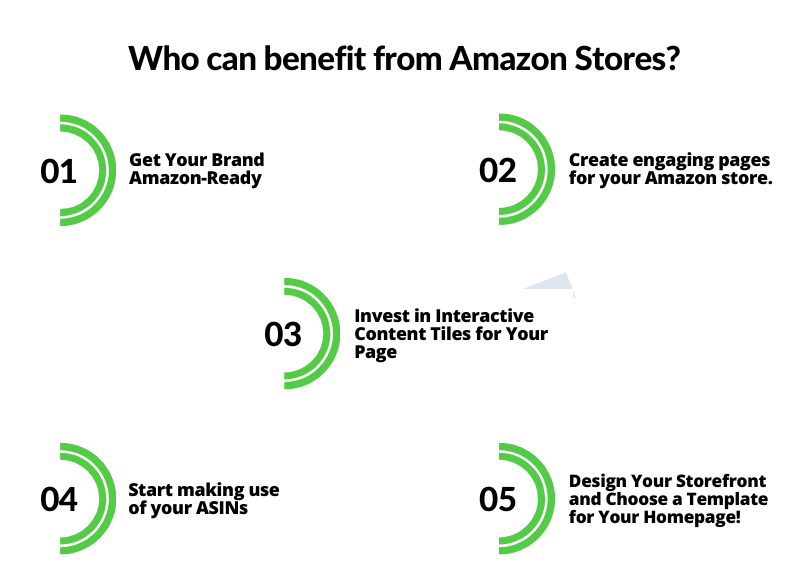 Here is a step-by-step guide to how to set up an Amazon store:-
1. Get Your Brand Amazon-Ready
To start crafting appealing Amazon Store content, you first need to enroll your brand in Amazon's Brand Registry. To do so, you would require the following:
You display a registered trademark for your brand on your products or packaging.
The ability to prove you're the trademark owner or an authorized representative.
An Amazon account. You can use your existing one associated with Vendor or Seller Central or create a new account for free.
If you haven't done so already, visit Amazon's Brand Registry page and complete your brand's registration.
2. Design Your Storefront and Choose a Template for Your Homepage!
Once your brand registration is complete, you can access your Amazon Store through Ad Console or Seller Central. From there, you'll see a list of eligible brands for Store creation; simply select the one you want to work on. Then, you'll need to choose a template for your homepage, which will define the overall look of your store. Remember that Amazon Stores have specific creative guidelines, which you can find in Amazon's Guidelines.
3. Create Engaging Pages for your Amazon Store
Create additional pages showcasing your product categories, top sellers, and ongoing deals after you've completed designing your store's home page. Think of it as constructing a website; make sure users can find what they are looking for easily.

4. Invest in Interactive Content Tiles for Your Page
It's time to add content tiles to each page after you've arranged your store pages for straightforward navigation. Content tiles work as dynamic building bricks to add interest to your store. They can feature navigational tools, headlines, images, grids showcasing the top products, movies, and image galleries. These elements enhance your store and make it easier for customers to find what they want.
5. Start making use of your ASINs.
How much does it cost to start an Amazon store?
Following the setup of your pages and the inclusion of interactive content, you can rapidly add your products to each category or page of your store. By allowing you to search up and include the ASINs of the products you sell on Amazon, the online store makes this straightforward. It's an easy method to showcase your products in your store.
Even though starting a brand store is free, in order to qualify, your brand must be registered on Amazon and be actively sold there.
Advantages that Amazon Stores Can Offer
Creating an Amazon Store has numerous advantages for brands. By offering a branded shopping experience with logos, product images, and fresh content, it raises brand awareness. Brands can modify store sites to successfully express their brand's narrative and attract followers who seek updates and notifications. Furthermore, Amazon Stores allow sellers to present their products, encouraging customers to explore different options and providing access to valuable statistics and traffic data. To create a seamless mobile shopping experience, sellers can integrate their stores with marketing initiatives, and the great news is that Amazon includes Store creation in the Seller Central account at no extra cost.
Conclusion
Amazon Stores is leading the charts for brand success in 2023. These online storefronts give companies the opportunity to design a distinctive shopping experience that showcases their product line and brand narrative. Amazon Stores can improve organic search results, boosting visibility and drawing current as well as prospective clients. It's time to check out Amazon Stores if you haven't already realized their advantages.
Are you ready to make the most of your companies' potential on Amazon? To help you navigate the challenges of Amazon Stores and build your brand, we at MMF Infotech employ seasoned Amazon account management experts in the administration. To find out how we can raise your sales, expand your visibility, and provide professional advice, contact us today!