In the digital landscape of 2023, having a solid online presence is not just a luxury but a dire necessity. A digital shadow is of utmost importance whether you are an entrepreneur, a small business owner, or an individual looking to establish or create a website. One of the first questions that would come to your mind would be, "How much does website design cost?" In this article, we will intensively guide you about the intricacies of website development costs in 2023, briefing you on the expenses associated with creating a website, and also reveal the various aspects of web development that influence its pricing.
Let us begin with Understanding Website Development Costs
To create a website, you must follow several steps, each contributing to the overall cost. To clearly understand the cost breakdown, you need to analyze these components.
1. Design and Development
How much does designing or building a website from ground zero cost?
The heart of any website project lies in the design and development phase. The very aspect of visual appeal and style to how it works and the experience it offers to the users comes together. The cost used in this phase can widely fluctuate depending on how intricate your website's requirements are. Here's a simplified breakdown of the costs during the design and development phase:
Primary Website: If you seek a straightforward, brochure-style website with minimal features, it costs between $ 2,500 to $5,000.
Small Business Website: Small businesses that seek a more comprehensive online presence with added features like e-commerce capabilities or a blog can expect a cost ranging between $5,000 to $15,000.
Custom or Complex Websites: As for large enterprises or websites with intricate requirements, the costs could exceed $20,000, and in some cases, it could extend into six figures.
When you consider designing and developing expenses, it is essential to stress-responsive design. Which ensures your website functions smoothly across all devices, from desktop computers to smartphones. A note: Having a mobile-responsive site isn't merely a trend; it is of absolute necessity in our mobile-centric world today.
2. Content Management System (CMS)
How much does it cost to have a website with a user-friendly CMS?
Choosing the appropriate Content Management System (CMS) impacts the website development cost. Platforms such as WordPress and Drupal provide flexibility and scalability but may demand extensive development efforts. Opting for a tailored CMS can be an even more costly endeavor.
Furthermore, you must consider adding essential plugins and modules to your CMS. These little extras can boost what your website can do, whether it's handling online sales, smoothly connecting with social media, or ensuring it shows up well in search engines. Remember to include the costs for getting special plugins or making custom changes in your budget.
3. How the Speed of Development Affects Costs
How does the time it takes to develop a website impact its price?
The timeline for your website project can make a big difference in its cost. If you're in a hurry, you might need to use more resources, which can increase the budget. On the other hand, if you have more time, you can spread the expenses out. It's all about finding the right balance that fits your goals and budget.
When you rush a project, you might have to pay your developers or designers overtime, which can drive up costs. Plus, a tight timeline can limit your choices for more budget-friendly solutions. So, timing matters when it comes to your website development budget.

4. The Ideal Team that You Need
Creating a website requires the right mix of people.
Putting together a website is a group effort involving various professionals like web designers, developers, content writers, and SEO experts. How much it costs depends on the team's size and their skills. Freelancers might be more budget-friendly, while agencies offer a complete package.
When building your team, matching their skills with your project's goals is essential. For example, if your website will have lots of content, it's crucial to invest in experienced content writers. If you want your site to shine on search engines, having an SEO specialist on board is smart. So, assembling the right team matters for your website and your budget.
5. Unforeseen Expenses and Unexpected Spending
Unexpected costs that can pop up while making your website.
It would help if you considered the extra expenses that might show up during development. These include registering your domain, paying for hosting, getting special plugins or themes, and keeping the site running smoothly. Plus, you might have to tweak your budget if you run into any surprise design changes or technical hiccups.
Cost Factors for Small Business Websites
What can affect how much it costs to develop a website for a small business?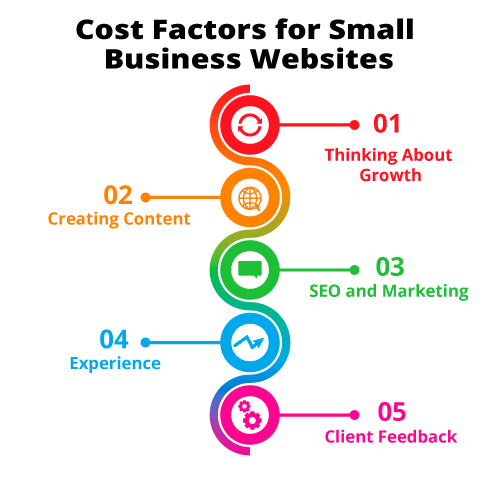 Small businesses have their own unique needs for websites, and a bunch of things can change the cost:
Adding E-commerce Features: If you wish to sell things online, your website will need special e-commerce features, which can raise the development costs.
Thinking About Growth: It's also important to consider how your business might grow. A website that can quickly expand as your business does can save you money.
Creating Content: Good content, like text, images, and videos, is crucial for keeping visitors interested and boosting your website's visibility on search engines. Remember to budget for creating this content.
SEO and Marketing: Promoting your website through SEO and digital marketing is an ongoing expense, so be prepared for these costs in your budget.
Choosing the Right Web Development Partner
Picking the perfect partner for your web development can make a big difference in your website's quality and cost. Here's what to keep in mind when choosing a partner:
Experience: Look for a partner with a solid track record in web development, especially for projects like yours.
Client Feedback: Reading what other clients have said in reviews and testimonials can give you a good idea of how well the partner performs and how satisfied their customers are.
Services: Make sure the partner offers a full range of web development services, from design to keeping your site running smoothly over time.
Communication: Good communication is critical to a successful partnership. Choose a partner who responds quickly and pays attention to your needs.
Conclusion
Having a website in 2023 is not simply an option but a need for individuals and organizations in the rapidly evolving digital world. To plan effectively and budget, you must understand the breakdown of website development costs. Consider the complexity of your project, the time frame you have available, the expertise of your team, and the long-term costs as you begin your website journey.
To ensure your success, don't underestimate the importance of picking the right web development partner. With the right team, you can confidently navigate the world of website development costs, knowing that your online presence will be a valuable asset in today's digital age.
In conclusion, the price of developing a website varies greatly depending on the project's specifics. Still, with careful planning and the proper partner, you can build a website that fits your goals and budget. What is the website development cost? Making the most of this investment in your digital future is up to you.
How much does it cost to make a website? The answer lies in the details of your vision and the expertise of your chosen team. Invest wisely, and your website will be a powerful tool for success in 2023 and beyond.
A website is now a tactical need rather than a choice. Remember that building a website is an investment in your future online. Join MMF Infotech Technologies, a reputable authority in web development, to guarantee success. Our knowledgeable team specializes in creating websites that fit your specific requirements and price range. Contact us immediately to increase your online presence and make your digital vision a reality.