As the big holiday shopping season approaches, the only thing that is on every trader's mind is Cyber Monday and Black Friday. This grand shopping spree has the customers and sellers both excited and happy. If you are a seller, and want to get all geared up for this biggest shopping event of the year, worry not. We have got you covered. In this article, we are going to present you with some ecommerce tips to prepare for Black Friday. We are sure that you just want to dive and get all the knowledge there and up your game which would help you navigate the terrain with skills and achieve those desired sales. Here are those amazing Black Friday tips for sellers.
The Importance of Black Friday and the Trends to Look For
Every year, Cyber Week, also known as the Big 5 in e-commerce- runs from Thanksgiving Day to Cyber Monday. Five full days of consumers they are spending their money intensively over the years. In 2022 alone, a total of $1.03 trillion was spent online for the whole year, which is impressive that these 5 days alone were responsible enough for nearly 4% of the total yearly spend. With sales of that level during this very time of the year, it becomes essential for the brands to build new relationships and hold relationships with existing customers.
The pandemic has convinced consumers to buy more sitting in the vicinity and safety of their homes, which has undoubtedly contributed to your sales. But that's not all; you need to tailor your messaging skills by regularly sending emails and promotions to the consumers about the upcoming deals and vouchers, which again will get more engagement from both ends of the rope.
Now that we know the basics of Black Friday and what to expect, let us see a few strategies to help you make the most out of it.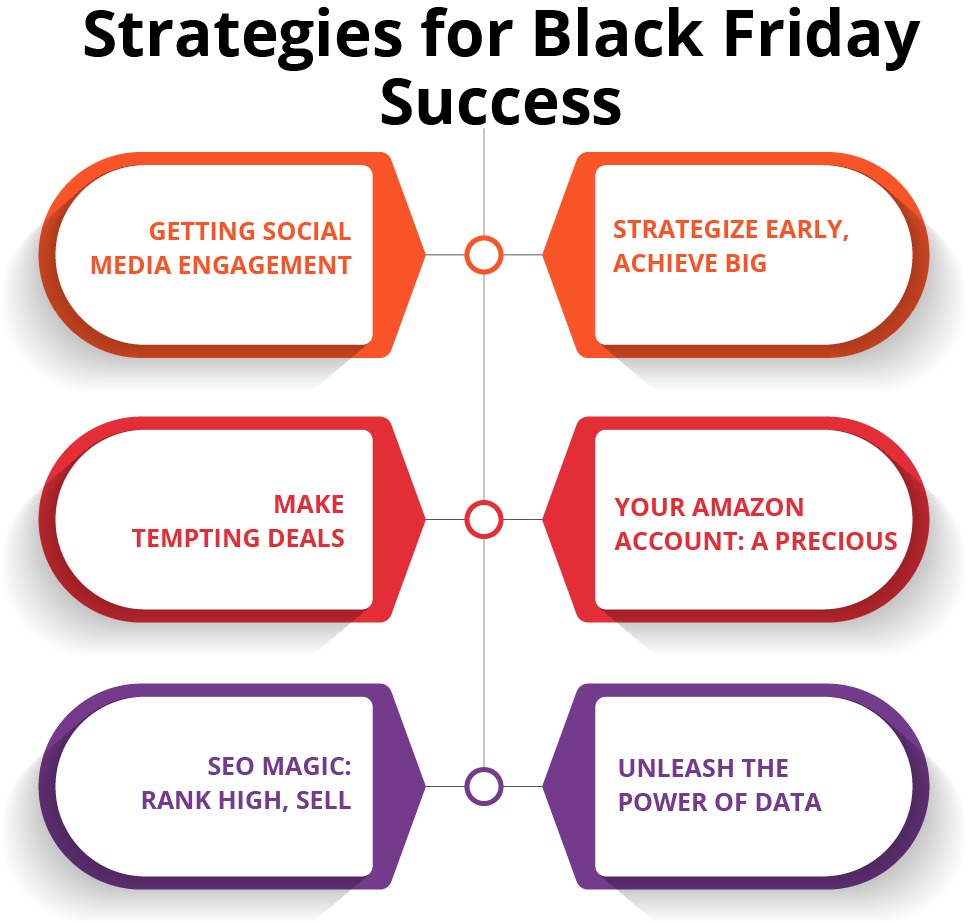 1. Strategize Early, Achieve Big
The best time to start preparing for the big event is July-August, which is now! You would surely want to prepare, well in advance, all the lists before November and adjust accordingly for the market strategy for Black Friday. Events like these demand diligent planning. You start by analyzing trends and assessing what worked and did not last time. And then craft a strategy that encloses the management, pricing, marketing, and customer engagement.
2. Your Amazon Account: A Precious Asset
If you're an Amazon seller, you're well aware of the immense potential that Black Friday holds. Ensure your Amazon account management is in prime shape and that too well ahead of time. Leverage top Amazon account management services to optimize your listing, enhance visibility, and ensure a smooth customer experience. Start drumming up your sales, which will lead to many conversions.
3. Unleash the Power of Data
Numbers don't lie, and data is your guiding light. Dive into analytics to identify your top-performing products, peak shopping hours, and audience preferences. This insight will help you channel your efforts where they matter most, maximizing your Black Friday success.
4. SEO Magic: Rank High, Sell More
The more you are visible, the more you are considered successful. You need to optimize your search engine optimization (SEO) for your product listings. Including high-ranking keywords, captivating product descriptions, and fascinat
5. Make Tempting deals
Since Black Friday is the ultimate festival, you should make irresistible offers and deals, which will set your products at par over the basics. Bunch deals, limited-time offers, and exclusive deals entice shoppers to hit the "add to cart" button.
6. You can personalize your messaging game
Black Friday is around the corner, and consumers get overwhelmed with messages. Well, here's your opportunity to stand out from the other brands and companies by personalizing those Black Friday messages. You could be as creative as you want here: You could make an unboxing video of your latest or the product most in demand and share it on your YouTube channel or, for that matter, on the website. One other way could be creating shareable discount links. That is going to fetch you more consumers. Or you could send SMS or emails using their personal information, which will take them by surprise. 

7. Getting social media engagement
Sellers Black Friday tips 101: Do not forget the power of social media. Utilize as many platforms as you can. Ranging from Instagram to Facebook and Snapchat to Twitter. You could drop a teaser for your upcoming deals and products and engage further with the audience. Build that excitement gradually for the big day.
8. Create Captivating Brand Marketing Assets
Your creativity must be original and eye-catching to grab the customers' attention in one go among the other competing brands. For this, you could hire an agency or a professional that can take care of this. In addition, focus on crafting vital ad copies. Simply writing that isn't feasible; proper research should substantiate it. Paid advertising during the holiday season is expensive; suggest keeping a substantial amount reserved for this purpose.
9. Realize the Potential of Email
Customers expect Black Friday promotional emails from the brands they love and are likely to spend more than 80% more than those who do not receive them. Customers get excited and prepared with such emails. Your effective email strategy should be specific: you would want to create different emails for different segments of the customers. Sometimes, people abandon the cart and forget; your personalized emails could nudge them to take action and proceed with the checkout process.
Being prepared with email templates for stockouts and back-in-stock situations is convenient.
10. Analyzing the aftermath
As soon as it strikes midnight, it does not mean that your work here is done with Black Friday. It would be best to keep the momentum flowing by looking after the newfound customers, sending personalized emails, offering rewards, and keeping them engaged with your brand. You should also check what worked in this campaign and what did not. You should also request post reviews from satisfied customers, as that builds trust in the community. Also, taking note of the competitor's product offerings and marketing techniques could assist you in future campaigns.
Two Cents
Now that we have seen these selling pointers, it is interesting that online purchasing significantly increased on Black Friday 2022. The Amazon Black Friday sales 2022 reached the zenith, showcasing the trend of online shopping. This shift in the graph highlights the importance of e-commerce strategy. 
The Black Friday advice for sellers serves as an ample amount of options in this ever-so-changing e-commerce society. You could dive into the sea of Black Friday and come out with a thriving business and happy customers, which comes with meticulous planning, utilizing data, and catering to the digitally aware customer.
Black Friday 2023 is just around the corner. Remember that this event is about creating an extraordinary shopping experience for your customers and leaving a lasting impression. It would be best if you were more than prepared to succeed with the recommendations above as your road map.
MMF Infotech Technologies is a forefront that crafts robust e-commerce strategies to align with evolving consumer tastes and preferences, which ensures your success. Our expertise in guidance and professionals who are the best in leaving an impact through creative advertising have helped various trusted brands to top the charts. You could be next. Do you want to make a lasting impression among the customers and fellow competitors? If yes, look no further. Let's conquer this Black Friday and go beyond together. Contact us now!