Guide to Amazon Multi-Channel Fulfillment Acceleration and Automation!
Amazon Multi-Channel Fulfillment is an element of Fulfillment by Amazon (FBA). MCF accepts products sold through outlets other than Amazon, whereas FBA is designed to store goods sold on Amazon accounts. They are nevertheless 2 distinct programs that Amazon seller central offers, each with its pricing and fulfillment options. It may be advantageous to ship products for MCF simultaneously if you already use Amazon FBA.
The role of Amazon multi-channel fulfillment is that of a turning point in the thriving world of e-commerce-driven selling, making the order-to-cash and delivery cycle quick and easy for impatient online customers who want every order to arrive at their doorstep as soon as it has been checked out and payment is made. A marketplace and an e-commerce store's competition in e-commerce selling must consider the necessity for effective and quick fulfillment services, such as Amazon FBA.
A seller with an Amazon seller central account who sells through the Amazon marketplace and other third-party stores can use Multi-Channel Fulfillment by Amazon FBA as a quick and effective shipping and delivery service for orders generated from those third-party stores. A third-party seller using Amazon Multi-Channel Fulfillment controls their online store's inventory, infrastructure, and information.
Ways to Make Amazon Multi-Channel Fulfillment Automatic & Speedy!
1. Fixing Inventory Problems
Regarding the inventory aspect, Amazon Multi-Channel fulfillment enables a seller to establish a facility at one of the company's sizable fulfillment centers that not only stocks items but also packs, ships, and delivers them to a customer's door. With a complete, real-time view of the entire inventory at distribution facilities and along the route, it offers stocking, packing, and delivery services all under one roof.
A separate warehouse and transportation arrangement are unnecessary, thanks to Amazon MCF, which combines the entire inventory management system. Compared to other service providers in the market, the costs to store and distribute goods at Amazon fulfillment centers are far more affordable and competitive.
2. Overcoming Infrastructure Challenges
Efficient warehouse management is one of the crucial components and segments of all fulfillment-related tasks that Multi-Channel Fulfillment organizes. Amazon fulfillment services relieve sellers from organizing bulk warehouse activities because they have their own WMS (Warehouse Management System). All warehouse management features, including the following, are available through Amazon FBA under one roof:
Built-in pallet and case racking
Docks for loading and unloading trucks
Conveyors and other automation systems
Forklift trucks to move those units
Ample spaces for staging and receiving outbound freight
Numerous pick faces for placing individual items into totes or trolleys
Equipment and algorithms for setting up small package shipments
A vendor is relieved of the hassle of stocking products at various 3PL service providers thanks to Amazon fulfillment services. An Amazon MCF seller can have complete control over inventory via a managed inventory system.
3. Addressing Information-Related Issues
Sellers that use Amazon FBA are relieved of the hassle of managing inventory and e-commerce fulfillment independently on 2 different platforms. It frees a seller from overseeing inventory and fulfillment at two different locations from its fulfillment facilities. It functions both as a supply partner and a logistics partner.
Through Amazon AWS, Amazon MCF made it possible for business apps and software to offer simple business transactions for a quick and effective order-to-cash business cycle. It protects a retailer from being subject to large merchants' EDI regulations. It provides a standard bar code labeling solution for every merchant to organize outgoing orders systematically and guarantee compliance. It provides an efficient method for managing orders, inventories, and payments.
Why Choose Amazon Multi-Channel Fulfillment?
Amazon multi-channel fulfillment by Amazon FBA brings several benefits for amazon account holders, as mentioned below: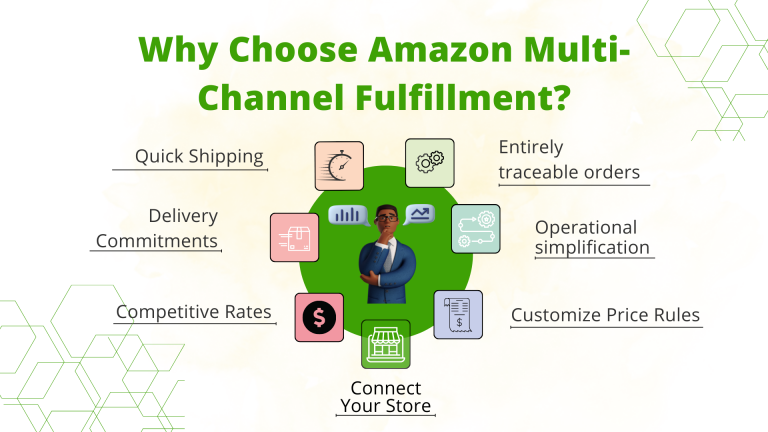 Quick shipping — MCF can deliver products as soon as 1, 2, or 3 to 5 business days following the ship date. Every day of the week, deliveries of orders are made.
Delivery commitments — By providing customers with Amazon-backed delivery dates based on delivery location and product availability, MCF enables you to drive sales conversion.
Competitive rates — MCF has transparent, consistent pricing. There are no peak surcharges, just a single pick, pack, and shipment rate.
Connect your store — You can easily automate fulfillment by linking your e-commerce store to MCF. Your consumers will benefit from quick shipping and precise delivery dates by eliminating the need to create MCF orders manually.
Customize price rules — Client shipping costs are entirely under your control. Replace the suggested rate from Amazon with a flat fee or free shipping choices, like free delivery on orders above $49.
Operational simplification — With automatic inventory placement, locate your products closer to the clients and scale to handle seasonal spikes without raising fixed expenses.
Entirely traceable orders — MCF offers to track information for any carrier through a tracking website.
Does Amazon charge any fee for MCF?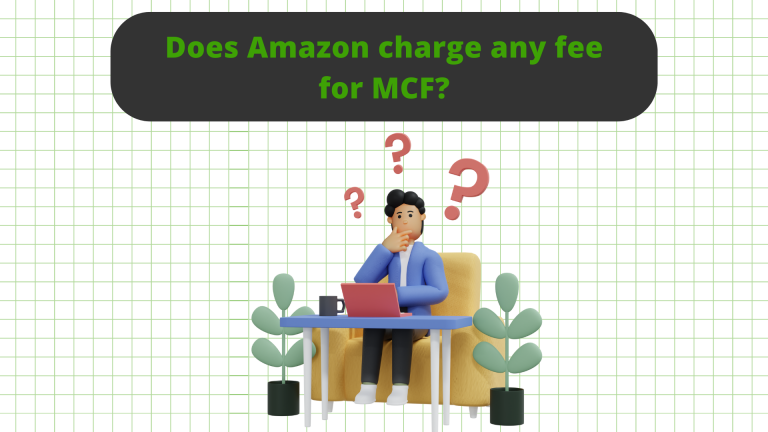 Amazon charges fees for inventory storage and order fulfillment since it handles all activities, including distributing your products to customers through various sales channels. The number of units you ship, the shipment time, and the product's volume and weight all factor into Amazon's fulfillment charge. Amazon's warehouse will store your products for a cost based on the item's size per cubic foot.
Does Amazon use multi-channel distribution?
Yes! Amazon does provide Amazon fulfillment services as an attractive option for several vendors. Using Amazon's distribution network, you may grow your business without worrying about in-house order fulfillment. Even while Amazon multi-channel fulfillment service provides numerous benefits, some restrictions can hinder you. A businessman who sets up two or more sales and marketing channels is said to have a multichannel distribution system.
The multichannel fulfillment model most commonly used now in many nations is the MCF model from Amazon. The MCF model provides a straightforward inventory and order management system and a high-quality shipping service. However, there is still room for improvement in the products and branding. You can simply reach out to MMF Infotech and get your Amazon automation and Amazon fulfillment services efficiently sorted.