Tips To Sell Private Label Product On Amazon FBA in 2022​
Seek an increase in your profits and expand your business online? Then it's high time you sell private label products on Amazon FBA. It will be one of the most favored ways to sell on Amazon Seller Central in 2022.

We see brand names everywhere we look. Everyone assumes that only multinational companies could ever establish their brand. Can an average Amazon seller set a production line of peerless branded products?
It's way easier than you imagine, owing to Amazon's private label and FBA program. Branded products are nothing but well-marketed private label products that have marked a reputation and earned some following.
Are You Familiar with Amazon FBA & Private Label Products?​​
No worries! This article will guide you through the initial phases of the Amazon store's private label business and all you need to know about Fulfillment-by-Amazon (FBA).
Private label products are goods or services created by one company and then sold, marketed, and branded by another company. In-demand examples of these products include Walmart's Great Value brand, and Amazon's Amazon Essentials. Moreover, intangibles and services like freelance work, web domains, and insurance products are also private label products.
Further, one of the most profitable ways to do this is to sell your private label using Amazon FBA. Fulfillment-by-Amazon is a system that permits brands to outsource order fulfillment to Amazon. Brands send products to Amazon fulfillment centers. After a customer makes a purchase, Amazon picks, packs, and ships the order. It also provides customer service and processes returns for those orders.
Choose any section from electronics to cosmetics, clothing to food. Amazon Seller could benefit from building and selling your private label instantly. No need to convert your garage into a production line or an inventor to create something new.
Private labeling involves researching and sourcing a product that is in demand. The product is yet in its raw manufacturing state, the way all products start life. Later the amazon seller then brands it (private labels it) as yours.
How to Launch Private Label Products using Amazon FBA in 2022:​
It doesn't matter if you're starting a new business or want to enhance your existing one. Nothing better than selling private label products using Amazon's Fulfilled-by-Amazon program.

Below are a few steps to follow while launching a private label brand product on Amazon Seller Central Account: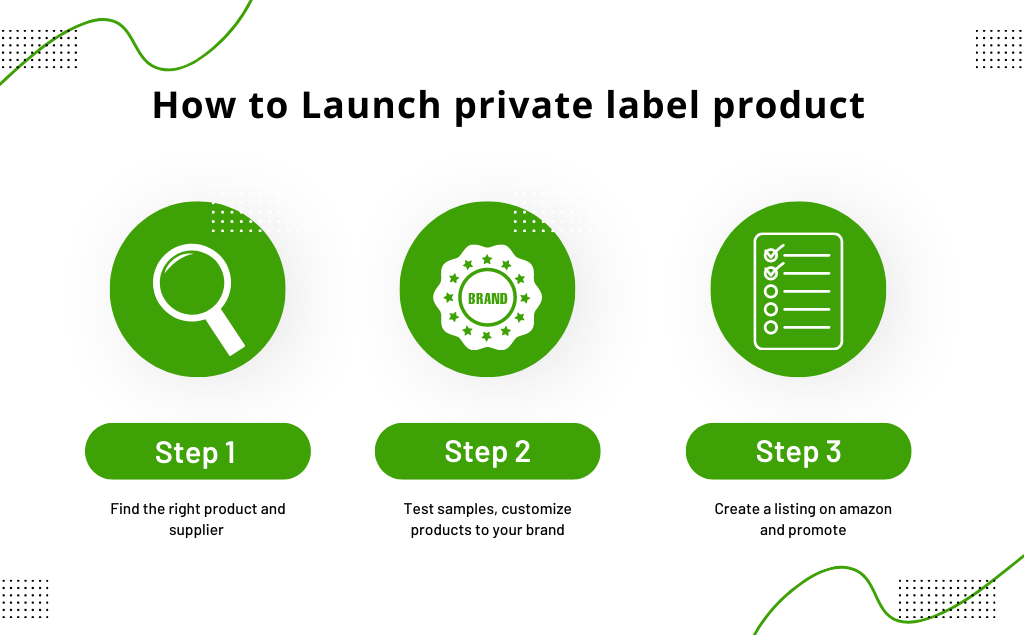 1. Research Prospective Products that Befit Amazon's Private Labeling.
There are various products having immense potential to earn the private label. But you should opt for those products that are in demand rather than the ones that you like. Avoid choosing the products that you think might sell well.
Most of the Amazon Sellers miscalculate this aspect and end up losing the battle of private label products. Stay away from this common mistake. Your research must include the following elements:
Lightweight – Your product should fit into a small box and must not weigh more than one or two pounds. It will help you save on shipping and fulfillment costs to your customers.
Avoid seasonal products – You will need a product that will sell consistently throughout the year. Once you have established the private label, you can later add on the seasonal products to your key products.
Easily salable – Few products are tricky to sell such as groceries, toys, battery products etc. Better to avoid products that require certain certifications or legal paperwork as well.
Non-tangled – Selling electronic products seems profitable and fun. But they bring a lot of issues with them. Customer service to these products might be very challenging for you at the same time.
The best place to research potential products that fit your private labeling standards is Amazon itself. Explore their distinct lists and categories to get invaluable ideas for your product selection. This strategy will help you with the latest trends and help you become the amazon best seller.
2. Source Your Private Label Products.
Trading directly with a manufacturer is the appropriate route to secure a private label product. It becomes an intimidating aspect for a few Amazon sellers, but is a very essential part at the same time.
Usually, while dealing directly with manufacturers, you must reach out to three to five suppliers to get comparisons, options, and certainly, the opportunity to negotiate with these suppliers.
3. Sample Products and Arrange for their Pricing.
Before launching your private label, a crucial work is to ask for suppliers' samples and check them first. If you are satisfied with the standard of quality, then only proceed further. Remember, not every supplier will provide you with a free sample. Sometimes it includes the total product price and shipping price as well. In contrast, some will knock off the price for you.
4. Outline Your Private Label Logo & Packaging.
Once you are conscious of your product, start creating a logo and packaging for the same. Branding experts are often seen saying that a brand is much more than just a logo, which is precise. But, a logo is an integral segment that helps your customers identify your brand. In comparison, virtuous packaging tends to charm the buyers.

Since not everyone is artistic, you may fancy hiring a graphic designer to aid in creating an awesome logo for the brand. Many designers are available on several freelancing sites. With an adequate budget, you can hire the best designer for you. 
5. Optimize Your Listing to Sell these Products on Amazon
Now is the ideal time to build the Private Label Amazon Listings. Research keywords and add them to your title. Take as much time as required to write the title that optimizes and ranks your Private Label Products.
Write your product description in bullet points with relevant keywords and add high-quality images for reference to the buyers. Arrange your keywords so that primary keywords are written first, followed by secondary ones. And make sure the bullet points also include keywords. 
6. Fulfill Private Label Orders Using Amazon FBA.
Once you start getting orders for your products, arrange the fulfillment of those products with Amazon. Utilizing FBA services can help you efficiently fulfill your orders and satisfy the customer to rank higher.
All you gotta do is, send your products to Amazon's warehouse, where they will store them. Amazon will pick, pack, and ship your products. And it will handle all your returns, refunds, and customer inquiries.
Look no further than FBA private label to sell your own branded products online. This is the simplest and fun way to make it possible. Believe in yourself and the process itself. It might seem challenging to get along with Amazon's changing terms of service but it will be totally worth it.

Follow these steps to Launch Your Private Label on Amazon FBA and become a successful Amazon top seller.

Want industry leaders Working On Your Project?