During the past decade, mobile app usage has exploded globally due to the internet reaching everyone worldwide. There isn't an individual unaware of the power of cyberspace these days.
Things have advanced further with the evolution of smartphones and wireless internet connections. For businesses, it is a portal that allows them global access. After the internet, the development of mobile and web apps takes things a step further. Thus having an online presence, especially in the form of an app, is crucial.
Mobile application is an excellent platform for businesses to reach their target audience.
What is Mobile App Development?
Mobile application development is the process involved in writing software for small, wireless computing devices. The same is used when mobile devices based mobile apps are developed. These applications can either be pre-installed or be downloaded and installed later by the user.
To develop scalable mobile apps, you must consider numerous aspects of app development. With rapid application development, it's essential that the process is well defined and understood by the developers. This expanding mobile app development industry will boom with modern mobile apps. 
Mobile App Development Platforms
The two prime mobile app platforms are iOS from Apple Inc. and Android from Google. iOS is Apple's exclusive mobile operating system built particularly for iPhones. Android, however, runs on mobile devices manufactured by various original equipment manufacturers (OEMs), including Google. While there is a resemblance between the two, different software development kits (SDKs) are used for distinct platforms. 
Methods for Developing Mobile Apps
You can access mobile app development in four discrete ways:
1. Native Mobile Applications
Native Android application development involves building apps for specific mobile operating systems. Users access them from dedicated app stores such as Apple iOS or Google Android. These apps provide fast performance, high reliability, and access to a phone's various devices. 
Examples – WhatsApp, Facebook, etc.
2. Cross-Platform Native Mobile Applications
Cross-platform app development builds software applications compatible with multiple mobile operating systems. A single application can run on various operating systems instead of developing different app versions for each platform.

Examples – React Native, Flutter, etc.
3. Hybrid Mobile Applications
Hybrid apps are built using the latest web technologies like JavaScript, CSS, and HTML. Later they're bundled as mobile applications for particular platforms. These are web apps acting like native apps. They're more cost-effective to develop and can be created quickly. But they lack feature-rich quality like that of native applications.
Examples – Twitter, Instagram, etc.
4. Progressive Web Applications
It is a website that looks and behaves like a mobile app. PWAs are built such that you grab the advantage of native mobile device features without requiring the end-user to visit an app store and purchase and download software locally.
Examples – Starbucks, BMW, etc.
Mobile Application Development Process
To build an application, you must follow a detailed procedure that helps you build mobile apps faster. Here are the salient steps of this process:
1.Strategy
2.Analysis & Planning
3.Design
4.App Development
5.Testing
6.Deployment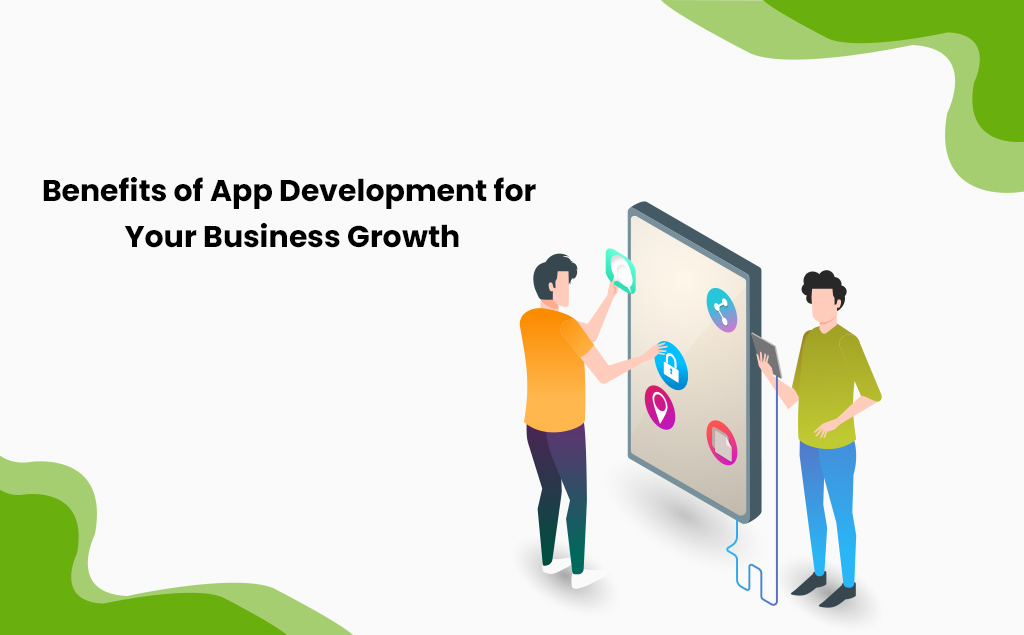 Reasons Why Mobile Apps are Important to Skyrocket Your Business Growth
Let's consider the benefits of developing a mobile app for your business. 
1. Exceptional Marketing Tool
The mobile app is the best, easiest, and quickest option if businesses want to launch something new, offer discounts, etc. These apps inspire business owners to adopt digital marketing. They're more efficient than the traditional medium of marketing (like pamphlets, brochures, billboards, etc.). Primarily, mobile apps work as the best-in-class marketing tool, and this is why you should look to invest in mobile app development if you haven't already.
2. Extends to Global Audience
Mobile apps assist businesses in reaching a vast target audience and building a well-planned app marketing strategy.
3. Boosts Traffic and Conversions
Traffic for your business is always directly proportional to the conversion rate of your facilities. A mobile app helps you own the traffic, which tends to have higher conversion rates. Nowadays, android development means more traffic and higher conversions. An eminent app development company can adopt proven strategies to help you enhance traffic and increase conversion rates.
4. Amplify Customer Engagements
An app generates a direct marketing channel between businesses and their customers. Thus it enables straight and effective communication. With the mobile app, businesses can send push and in-app notifications to as many customers as possible. Notifying customers with critical and relevant information will attract them and turn them into loyal consumers of your brand. Hence they'll prefer your products over others.
4. Enhances Consumer Loyalty
With so much noise, including Facebook ads, coupons, flyers, email marketing, etc., businesses can quickly lose hold of their customers. Mobile apps allow businesses to directly interact with their customers, building a seamless and persistent connection. This is important for cultivating customer loyalty. Mobile apps can create a genuine and sincere relationship with customers. It can make customers loyal to your brand.
5. Facilitates Quick Feedback Management
Mobile apps provide clients with a convenient platform to give feedback on their products and services.
6. Social Media Integration
Integrating social media icons into your mobile apps allows users to share their feedback over various social media platforms. This way, a mobile app is also considered an effective marketing tool for businesses.
7. Prompt Access to Customer Data
With mobile apps, you can easily access customers' data. Even by checking out the app's review section, the businesses get an opportunity to analyze the areas of improvement, quality of products and services, etc.
Want industry leaders Working On Your Project?