Know These 5 Tips and Grow Your Amazon Aggregator Business
When the e-commerce sector realized that digitizing the private equity playbook is profitable, the concept of aggregation was born five years ago. Right now, Amazon aggregators are fueling the E-commerce sector. Even the founder of My Amazon Guy, Steven Pope, said, "Amazon aggregation is the largest movement you will see in the next 2 years.
Amazon aggregators are an inseparable part of Amazon. Thus, they are precious to the company. To be a good Amazon aggregator, you must track trends and major players in the market. As of now, there are 96 active Amazon aggregators in the whole world. Out of them, 25 Amazon aggregators control a whopping 70% of the available capital. 
Although it is a demanding career, it offers financial and professional fulfillment. This work is challenging, but keep reading; we can help you turn it into something bigger.
What is Amazon Aggregator?
Amazon aggregator is a business that gets hold of Amazon FBA accounts of successful Amazon brands. Then, these aggregators operate and scale these businesses to gain more profits. 
Imagine three unique Amazon companies selling shoes, perfumes, and clothing accessories. They are doing well, as seen by their high revenues and positive ratings. Because they all belong to fashion, an Amazon aggregator's job is to supply them as a unified entity. It shows that it can make significant revenues with little investment in resources. 
This business model does not need any machinery. You can manage several Amazon brands using one backend system, one accounting system, and one marketing agency. 
Amazon aggregators outsource order fulfillment to Amazon FBA services. You first need to open an Amazon FBA account to avail of these Amazon FBA services. Once you open an account and send the product, Amazon will deliver the order to the delivery location.
What Amount of Funds Have FBA Aggregators Raised?
Amazon aggregators have been securing funds since the pandemic. But the funds they raised have been depleting since the start of 2022. In 2021, Thrasio, one of the top Amazon aggregators, got $1 billion in financing. With over 200 different brands, it acquired 1.5 firms every week. Yet, in 2022, the company let go of 20% of its employees. It also appointed a new CEO at the same time. The business was expanding so fast that it could no longer keep up.
5 Helpful Tips for Better Growth of Amazon Aggr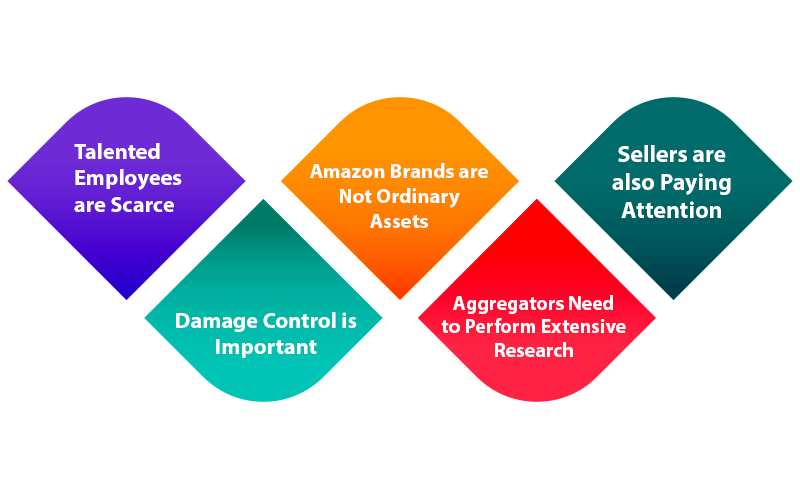 1. Talented Employees are Scarce

The maintenance and optimization of an Amazon FBA account is a challenging skill. And it's pretty tricky for Amazon seller aggregators to recruit skilled professionals. In this industry, there aren't many employees with advanced skills. Additionally, aggregators are giving professionals with inadequate training too many responsibilities. Even for veterans, updating PPC, managing ASIN blocking, and optimizing brand images are too much. Amazon FBA consultancy also distributes work to several persons. Amazon aggregators should also divide the work.
2.Damage Control is Important
Aggregators don't realize that some acquired brands can get suspended or find the ASIN blocked. Aggregators cannot apply suitable methods to fix these issues as they didn't plan for them. Thus, as an Amazon aggregator, you must focus on preventive measures when handling an Amazon FBA account.

3. Amazon Brands are Not Ordinary Assets
Most aggregators buy Amazon brands without knowing these are not like assets bought from the stock market. Amazon aggregators are habitual of traditional assets they have used in the past. Amazon brands are the future of the industry. But, aggregators should realize that these Amazon assets are different. They need to work on them to earn money.
4.Aggregators Need to Perform Extensive Research
Amazon aggregators are unaware that traditional research factors don't apply to Amazon brands. These factors include Corporate Records, Financial Statements, Legal Records, and Written Agreements. Instead, Amazon sellers have a one-page trademark registration and the Amazon Business Agreement. Aggregators do not know that top sellers operate with few freelancers and Amazon FBA services that help ship their products. It is even possible that the sellers are hiding risk factors. Risk factors could affect your purpose of gaining money as an aggregator. The complexities of an Amazon business differ from those of a traditional asset. Aggregators should change the research procedure for the Amazon brand for all these differences.
5.Sellers are also Paying Attention
Most Amazon sellers are not competing with the sellers of their categories. But, Amazon aggregators are competing among themselves in this limited space. Sellers share insights among their community about which aggregator offers the highest offer. There is so much talk happening about aggregators in these digital communities. Amazon is a seller's market, so aggregators need to keep a positive image with sellers.
Challenges That Amazon Aggregators are Facing
UNCTAD estimates that the proportion of online purchases climbed from 53% in 2019 to 60% in 2020 and 2021. With such an upsurge in online orders, many Amazon seller aggregators earned a lot of money. But, some brand owners realize they cannot scale as fast as their competitors. At the same time, some don't want to struggle while running a business.
Amazon seller aggregators face the most difficulties when signing a deal with sellers. Some common issues Amazon aggregators face are:
Choosing the Best Brand: Amazon aggregators look at the brand's whole profile to determine if it can fit into its roll-up portfolio plan. Financial performance and transferability are the two most crucial aspects of the assessment.

General Problems in Market: Inflation, supply chain issues, and competition on Amazon also affect Amazon seller aggregators.

Difficulties Following the Takeover: In this competitive market, the acquisition is only the first step. Maintaining a reputable business is challenging for Amazon aggregators if they have recently purchased it. As a result, aggregators want the brand's core members to stay around for longer.
What Do Amazon Aggregators Do?
Amazon aggregators take the responsibility of investing in small Amazon businesses to help them build a successful & profitable brand.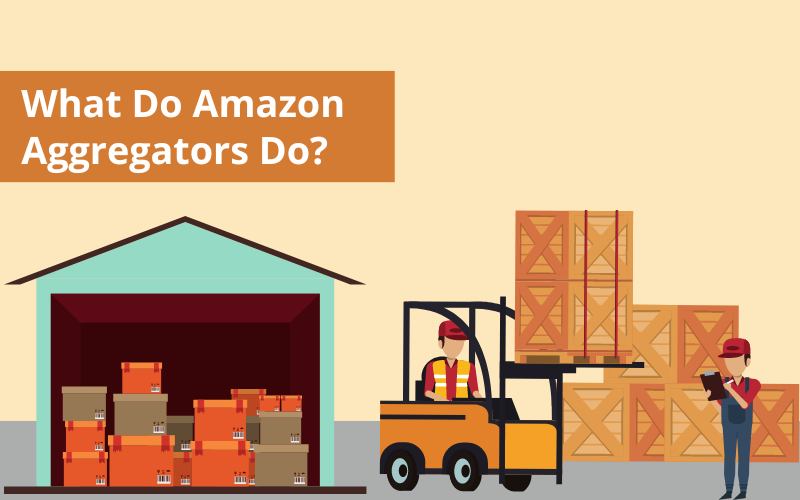 What is the Aggregator Business Model?
The business model of Amazon aggregators connects the seller directly to their customers. It is a network model where an aggregator assembles unorganized Amazon sellers under one brand name.
Does FBA Charge Shipping?
Amazon's FBA services pick, pack and ship your products for your business. Amazon charges an FBA fee to cover these charges, which is determined by the size and weight of your product.
How Do Amazon Aggregators Make Money?
Aggregator acquires other brands and employs resources and marketing strategies to gain customers. The brand sellers receive clients when customers make purchases. In return, the aggregator receives a commission.
What is an FBA Account on Amazon?
Amazon FBA account Management helps sellers outsource the delivery process of your product. It includes picking, packaging, shipping, and delivering the package to customers.
Plenty of companies compete to get brands. Amazon aggregation is a highly preferred industry. As the acquisition rate of Amazon brands continues to increase, so does the need for authentic and dedicated aggregators. Realizing these will help Amazon aggregators gain an edge over their competitors.
The aggregator market is developing, and there are new daily methods to boost the business. We, at MMF Infotech, provide services like Amazon Marketing and Account Management. It can help your Amazon aggregation business. Get in touch with us now for the best packages.
Want industry leaders Working On Your Project?