Everything You Need to Know about E-Commerce App Development!
Using e-commerce applications to make purchases has become the most practical and popular method of shopping. Recent lockdown periods fueled an already flourishing e-commerce app development.
Have you ever wondered about the number of active online customers in today's modern world? Globally, more than 2 billion individuals shop online presently. Therefore, those who run online businesses very well realize the importance of E-Commerce App Development. Its emergence has changed the present circumstances of the marketplace. Statistics on e-commerce application development demonstrate how consumers' way of shopping is evolving. Nowadays, most people spend their time on smartphones using e-commerce apps.
Research dictates that in 2019–20, 80% of people spent their time surfing through smartphone apps. The impressive fact is that more than 70% of smartphone users downloaded e-commerce apps. Amazon, Walmart, eBay, etc. e-commerce apps top the list of downloaded apps.

An Introduction to E-Commerce App Development!
Recently online shopping has improved in terms of comfort, cost-effectiveness, and convenience. The e-commerce application development has made all these marketing enhancements possible.
Considering how to develop a top-notch e-commerce app or website for online shopping? To learn more about e-commerce development, you can read this guide. It covers every facet of e-commerce app development in great detail. So be patient while you read this article about developing e-commerce apps. Here, you will discover crucial e-commerce app concepts and how to implement them to make money. But before, take a quick look at some essential data concerning e-commerce application development.

Perks of E-Commerce App Development for Your Brand
The development of e-commerce websites is essential for firms to grow. However, m-commerce and mobile applications are growing in popularity right now. 90% of shoppers prefer to use their phones to purchase online.

To rephrase it, buyers have more options when purchasing online using a mobile device. However, the value of the internet and mobile e-commerce applications is apparent. Both types of applications are necessary for businesses today to reach customers. Developing responsive websites will then be a great answer to the issue.
E-commerce buyers are growing daily. And this year, they'll increase by 70%. These are adequate grounds for any business to start an eCommerce application development project. Additionally, developing an eCommerce app has other merits; let's discuss them.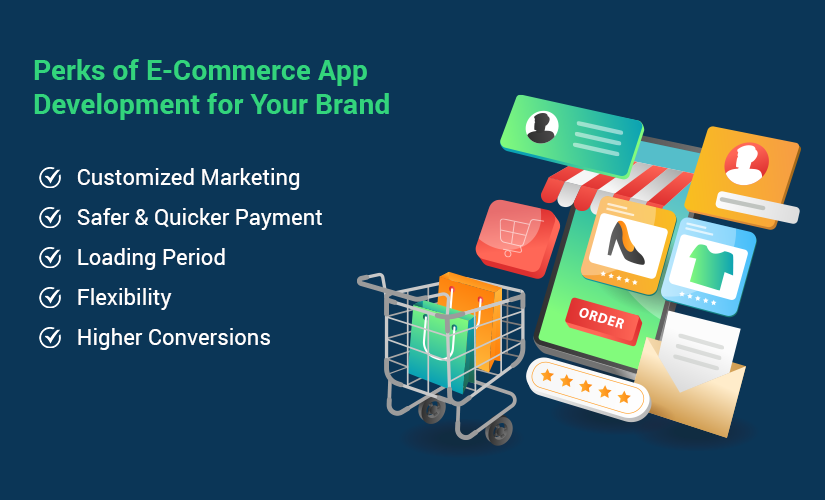 Interacting with your devoted customers and dazzling them with gifts is crucial. Businesses in the past had only a few options for contacting potential customers. Now that e-commerce app development has advanced, it is possible to connect with every customer. Therefore, it is now both possible and becoming much more accessible. You might add new analytical tools and features to win your customers' hearts. Moreover, you can directly approach your customers individually due to e-commerce app development.
The rise of mobile banking and the development of online banking are both excellent options when you have debts to pay back. You'll receive faster and more secure payments thanks to the integrated capabilities of e-commerce platforms. You can build an app using e-commerce app development to make your consumers pleased by giving them quick refunds and quick payments. It resembles an in-app purchasing system.
Financial businesses must develop E-commerce applications for faster and safer payment. Web development professionals are now creating web and mobile banking apps. They are also providing fantastic new features. Thanks to these features, you will have the safest and quickest payment gateway.
Internet users used to wait up to 8 seconds for a web page to load a decade ago. However, the current study indicates that people would abandon a website after only a few seconds.
Today, 50% of your visitors may depart if your e-commerce website doesn't load fast, under 3 seconds. And there are high chances of them not considering your products in that case.
But in this instance, modern e-commerce website building is becoming inventive.
Mobile commerce applications can allow you to move your store from one town to another. However, in practice, it is not feasible.
You can refer anything to another user using mobile applications. You can do the exchange with just a few taps of a mobile app's share button. You can thus have limitless mobility thanks to the development of mobile apps for e-commerce. No matter how big your store is, it doesn't matter. And so you can run your business from anywhere, regardless of size.
When customers can more easily find your store, you will increase conversions. For mobile e-commerce apps, there will be even more mutations. Therefore, an e-commerce application can potentially increase your online store's visibility. The result is that you'll conduct more profitable deals. Visit our eCommerce web development services for more information.

Steps To Build an E-Commerce Application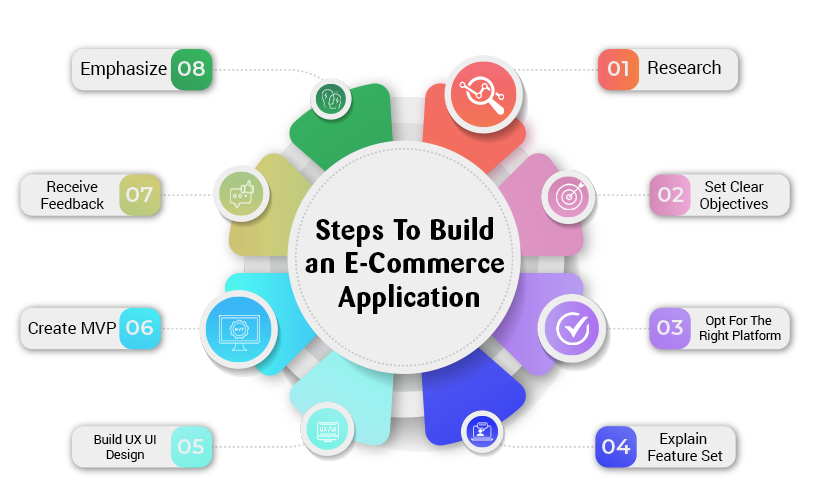 Let me provide an overview of the eight essential procedures to follow while developing an e-commerce mobile app.
Step 1. Research
Putting research and development on top is the foremost requirement. Analyzing the target audience's behavior and patterns requires research on both the competition and user interviews. Additionally, it aids in defining the ideal app platform and a feature set that is as relatable to our target audience as feasible.
Step 2. Set Clear Objectives
Setting your company's goals forms the basis for developing a mobile e-commerce app. Here are 3 inquiries to consider when you create your plans:
What problems are you trying to solve?

Who are you selling this product to?

How do you conclude if it's successful?
Step 3. Opt For The Right Platform
You must concentrate on the most crucial components of your e-commerce applications during the MVP stage. Instead of launching a finished product immediately, we suggest an ongoing product evaluation to spur new revisions. MVP attempts to discover what customers think of the product, shorten development time, lower risks, and more effectively employ resources.
Step 4. Explain Feature Set
You now have a better understanding of the issues your product needs to address and the features that can please the end customers because you already have input from consumers, professional opinions, trends, and the urge to outperform your competition. You can use common prioritizing frameworks and techniques to identify which product feature should be at the top of the list.
Step 5. Build UX UI Design
The user experience in e-commerce apps needs to go beyond traditional in-store shopping, and UX UI design is a chance to differentiate yourself. The design will communicate your brand's identity and voice to your target market. Color palettes, eye-catching graphics, and seamless page transitions generate a positive impression on your customer.
Step 6. Create MVP
You must concentrate on the most crucial components of your e-commerce applications during the MVP stage. Instead of launching a finished product immediately, we suggest an ongoing product evaluation to spur new revisions. MVP attempts to discover what customers think of the product, shorten development time, lower risks, and more effectively employ resources.
Step 7. Receive Feedback
Getting user feedback is essential while creating e-commerce apps because it enables you to learn what appeals to and repels your target market. It involves observing how people engage with your app, gathering feedback, and looking for potential upgrades. It's time to get user feedback after making the MVP available.
Step 8. Emphasize
We can see that design is never static by looking closely at the most well-known competitors in the eCommerce app market. Instead, it is continually changing and adjusting to meet user and market demands.
Examples of Outstanding E-Commerce Apps
Following are exceptional e-commerce apps that personalize and generate a fantastic customer experience.
Motives For Developing An E-Commerce App
The market for e-commerce apps is massive. If you're still unsure, here are 2 significant reasons you should create an e-commerce app.

The Smartphone World
Around 4 billion smartphones are presently in use worldwide. Most individuals use their mobile devices to quickly and easily purchase online whenever they want. 
Revenue Expansion
Mobile phones are more than just complex electronic circuits. Numerous global e-commerce platforms, including Walmart and Amazon, have demonstrated that mobile apps enhance revenue growth across all devices and draw in new clients.
User Behavior Upgrades After COVID-19
COVID-19 dramatically accelerated the eCommerce boom, which significantly impacted how people shop. $82.5 billion was spent on eCommerce in May 2020, an increase of 77% from the same month in 2019. It would have taken 4 to 6 years to reach that amount with the traditional year-over-year growth.
Beyond having a fantastic adaptive web view, there are other reasons to develop an eCommerce app, such as:
Quick & easy access to a user

Push notifications enable you to reach out to potential users

Better methods for monitoring user behavior

Effective analytics collection

Speedy hypothesis and new features test
Vital Features to Include in E-Commerce Application
Any online application must have these features. Let's discuss the additional features that must be added while developing an e-commerce app. 
Scalability – E-commerce apps are becoming increasingly popular, raising user expectations. As it improves the average response time and the number of requests processed per second, developers pay close attention to the app's scalability. The scalability of e-commerce apps manages the ongoing volume of work, so you must ensure it in your framework. Consequently, it is a prerequisite for the development of e-commerce.

Stability

– Customers typically prefer not to waste their precious time on apps. Lags and instability don't even stand a chance. Making the program reliable should be one of your top responsibilities as a web developer. It is even more critical when considering ROI (return on investments), more sales, and higher conversions.




It is impossible to create a beautiful website without encountering obstacles. However, it is essential to produce only the highest quality.

Therefore, more changes should be made using professional advice, user feedback, and regular updates. Because of this, stability is a crucial component of the development of electronic commerce.

Security

– The user must enter a lot of information, including the shipping and billing addresses, credit card numbers, email addresses, CVV code, and other information. The key here is determining how and by what mechanism you can guarantee their data safety. Personal data leaks and hacking by cyber criminals are fundamental problems right now. The future of your e-commerce applications may be jeopardized if you cannot guarantee the security of your user's data security. There is no choice but to offer the customer's data 100% security.
Other than the basic features mentioned above, there are a few a

Trouble-free Registration

Checkout and Payment

Tracking Orders in Real-time

Push Notifications

Reviews and Ratings

Social Media Integration



Your company has various potential thanks to an eCommerce app, from quick user access to a competitive edge. But ultimately, developing an eCommerce app is about putting the user first and creating the most incredible user-friendly solution. With a decade-long experience, we can design a solution for your target market and product. If you need product assistance for an eCommerce app you're creating, get in touch with us.
Want industry leaders Working On Your Project?