Imagine looking for a new product; where do you look first? You probably go to the Amazon marketplace, enter the most relevant keyword, and click—millions of items are at your disposal. Since more than 60% of product searches start on Amazon, businesses have understood how important it is to use the site to expand their market reach, move more products, and build a loyal customer base.
When there are several steps sellers must complete before submitting their products for sale on Amazon, it's crucial to remember that you must put in much effort while a product listing is active. But many businesses are unaware that maintaining and updating Amazon product listings is a continuous process. With a "set it and leave it" approach, you cannot be successful on the platform.
Constant Amazon listing optimization and maintenance are a must. Any listing components that repeatedly fall short of Amazon's standards will be suppressed, deactivated, or your entire account suspended until the problem is fixed. Additionally, a suppressed listing prevents Amazon users from searching for or finding your goods, which results in an immediate loss of sales for each hour the listing is unavailable until it is rectified.
What Causes an Amazon Listing to be Suppressed?
Suppressed Amazon listings typically happen when a product listing falls short of Amazon's criteria. These suppression rules, according to Amazon, are in place to make it simpler for customers to find, investigate, and buy products on Amazon marketplace. Sellers should include all the necessary product details and information to prevent Amazon from suppressing product listings.

Common examples of wrong or inadequate information that can lead to suppressed amazon listings include any product listing:

Missing out on the main product image. 
Without a thorough product description(excluding specific categories).
Any apparel or accessories item with a title exceeding 80 characters.
Lacking a defined category type.
Any inaccurate product information.
With a product title longer than 200 characters.
The product category is absent.
Amazon has prohibited the sale of that product.
Amazon suspects your product to be fake.
The product was the subject of safety complaints on Amazon.
As per Amazon, the used product is being marketed as brand-new.
Amazon believes that you aren't the lawful owner of the product.
How Can Suppressed Amazon Listings be Fixed?
Fortunately, sellers can quickly locate and update suppressed amazon listings. The problem is that sellers frequently revisit their ads to ensure everything is live and functioning properly.
Here are 5 steps to fix a suppressed Amazon listing:
Locate the

Manage Inventory

button on Seller Central's Inventory tab
2. A Suppressed button will appear if you have any suppressed listings. If there aren't any goods marked as Suppressed, then kudos—all listings are operational!
3. Select the desired product listings by clicking Suppressed if the button is present.
4. Edit any listings requiring more details, or click Manage Images to add product images to those missing them. The Amazon Product Summary page lists all the quality and suppression issues for each Amazon product listing. Here is an example:
5. Once every problem has been fixed, select Save and Finish to finish the process.
What Happens If a Listing is Suppressed Mistakenly?
The guidelines for wrongful claims on Amazon guarantee that customers get the most accurate and reliable information; however, the Amazon algorithm occasionally mistakenly flags specific claims or keywords. Even if you believe your item meets Amazon's specifications, an unintended forbidden claim can suppress your listing. Stranded Inventory and Performance Notifications are the two primary ways that notify Amazon sellers of wrongly marked suppressed amazon listings.

An ASIN will be removed from a listing when it is marked as Stranded Inventory by Amazon. It is listed as Stranded Inventory on the Manage Inventory tab. Amazon will give an explanation on the Stranded Inventory page, such as a missing characteristic or an inaccurately labeled wrongful claim. Sellers have 2 choices: appeal or make the necessary corrections.
In most circumstances, you can fix this problem by changing the listing's copy. For instance, when a pesticide claim is resolved, the ASIN is often removed from the Stranded Inventory status by eliminating phrases like bugs, pests, mold, and insects.
Performance Notifications
A performance issue has been detected when a seller receives a Performance Notification regarding an ASIN. To address Performance Notifications, sellers must submit a Plan of Action (POA) with 3 components – Root Cause, Corrective Actions, and Preventative Actions. Amazon can remove the product detail page for sellers to face an error that needs to be addressed before they can resume selling.

To analyze the highlighted ASIN and look for any recent customer comments relevant to the performance issue brought up by Amazon, sellers can visit their Voice of the Customer dashboard in Seller Central. It should take down the performance notification after submitting a legitimate POA.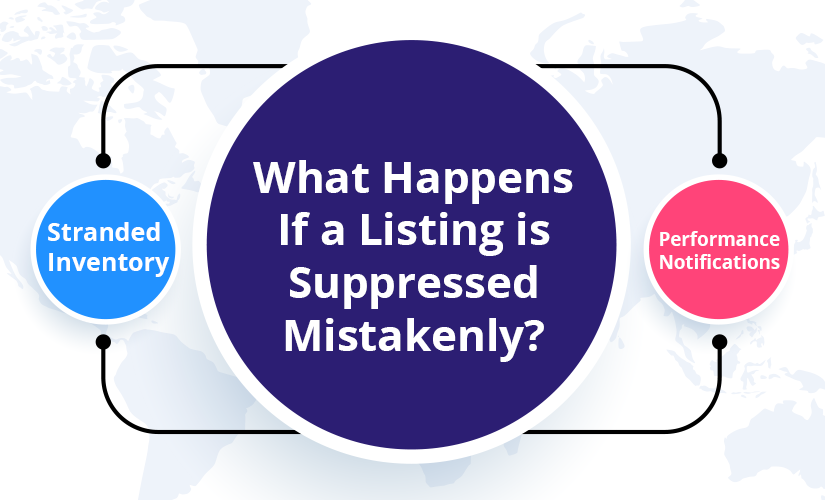 What to do to Protect Your Listing from Being Suppressed Again?
While most sellers would agree that using the Amazon marketplaces benefits their company, many are unaware of the ongoing upkeep needed to keep their listings flexible with the site's strict standards.
Since Amazon is constantly changing and modifying its listing requirements, all listings must be active and polished. Imagine if one of your Amazon product listings doesn't adhere to these continually evolving requirements. If so, they may be deleted or suppressed without warning. Therefore it's crucial to periodically review Amazon's policy pages and your product listings and make necessary adjustments to prevent the difficulty, aggravation, and potential revenue loss that suppressions may bring about.
You must carefully stick to Amazon's standards while developing product listings for your e-commerce firm. Any errors may cause Amazon to remove your product listings, which will end up costing you much money over time.
If you are a person who frequently experiences suppressed Amazon listings, you can employ our expertise to help you ease up your suffering. We will also assist you in getting in touch with Amazon Seller Support, as they might be able to provide more advice and assistance. Please reach out to us soon.
Want industry leaders Working On Your Project?