How to Hire an E-Commerce App Development Company Smartly?
In the last two years, many E-Commerce App Development companies have grown as new businesses, and existing businesses have switched to e-commerce. Hence, organizations are hiring a dedicated E-commerce app development agency to build an e-commerce app. It allows them to grab this lucrative opportunity and grow their business.
According to reports, E-Commerce sales were $870 billion within the US in 2021, a 14.2% growth over 2020 and a 50.5% growth over 2019. E-Commerce represented 13.2% of all retail income in 2021 within the US. So, it's evident that if you want to stay relevant and grow in today's industry, e-commerce mobile app development is a necessity.
Types of E-Commerce Mobile Application
By 2022, the number of current mobile phone users will reach 7.26 billion, with 91.54% of the world's people owning a mobile phone. It allows businesses to capture a large audience and cater to people with different purposes. Thus, these types of Mobile E-commerce apps are in the market to target people with distinct needs.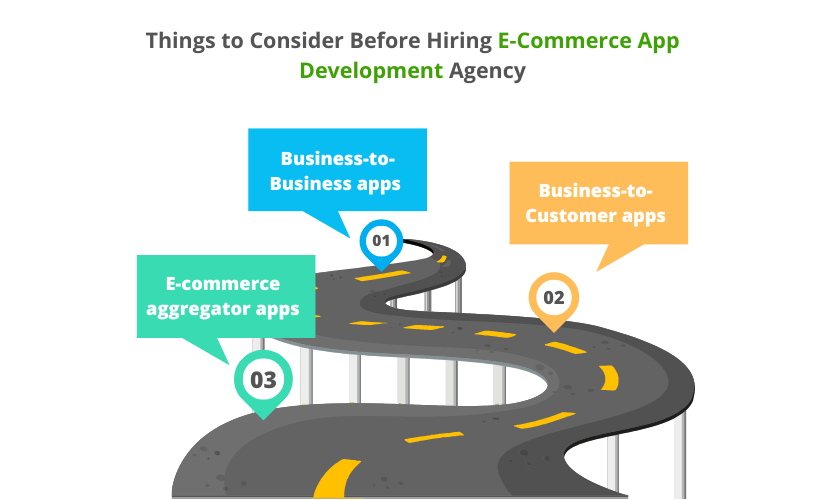 Business-to-Business apps  
Business-to-Business mobile apps allow various companies to do business with each other. These platforms can have items listed by sellers or bundled together by a single seller at a lower price. Alibaba is a famous example of a B2B app.


Business-to-Customer apps


Business-to-Customer apps are the most spread e-commerce app in today's world. It enables businesses to sell products to the end user. A widely used example of a B2C app is Amazon. You can either develop your marketplace app like Amazon or sell niche products.

 

E-commerce aggregator apps


This type of app doesn't sell its products. Instead, it gives the customers access to a centralized system that allows them to buy a product or service of their choice in their proximity. Ubereats and Uber are two famous examples of e-commerce aggregator apps. 
Why Should You Consider E-commerce App Development Agency Over Freelancers?
Today, many exceptionally skilled and knowledgeable e-commerce app development agencies and freelancers are available in the market. So, it is confusing for businesses to decide whether to give the e-commerce mobile app development project to an agency or hire freelancers. Both have pros and cons, but we will explain why you should prefer an e-commerce app development agency over freelancers.
On the surface, it looks like hiring freelancers is a better choice due to their low rates. However, freelancers specialize in 1 or 2 domains at maximum. So, you would need to hire multiple freelancers for your app development, and you have to start by coordinating all the freelancers. Though freelancers can save you money, you have to give your time to coordinate the project, which might not allow you to focus entirely on other business work. 
On the other hand, hiring an e-commerce app development agency for the app development project will save your time and the hassle of managing the team of app development freelancers. You can focus on the app development process via a convenient single point of communication along with your other business work. Therefore, you should prefer hiring an agency over freelancers.
Things to Consider Before Hiring E-Commerce App Development Agency
If you want to avail business the full potential of an e-commerce app, you should have the following 4 points clear before approaching any agency: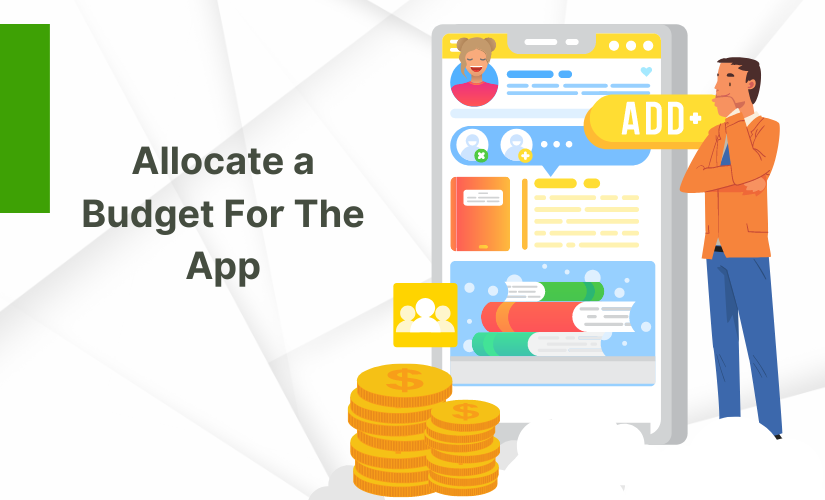 Allocate a Budget For The App
Starting with setting up a budget is a must. Consider e-commerce mobile app development a long-term investment that should give you returns over time. So, don't compromise on the budget for a good quality app. Ideally, your budget should also include post-development maintenance costs.  
To gain an upper hand over your competitors in mobile e-commerce, you should study their products, who they target, their customer feedback, and their marketing strategy. After analyzing the competitor, identify your unique selling proposition(USP), which makes you stand out from your competitors.
Before developing the app, you should look at the app from the user's perspective. Hence, understanding your target audience and their needs is a must for your e-commerce app to fulfill your customer's needs. 
Choose the Right Mobile App Platform
To reach a wider audience, knowing which platforms to cover is essential. In today's times, the majority of people use Android and iOS. Thus, you should hire an agency with experience in developing e-commerce apps for both Android and iOS. Being present on both these platforms will provide good exposure to your business.  
It's beneficial for your business if you check the portfolio of e-commerce app development agencies. It helps you know about the skill-sets and capability of that firm and plays a significant role in helping you decide whether it's right to hire them or not. 
Enquire About Their Technology Specialization
You must enquire about the technologies in which they specialize. By asking this, you would be able to assess their knowledge and whether they are updated about the latest trends or not. You will also get to know whether they are suitable for your project or not.
If you want to understand an agency's work better, it's a must to read the feedback from their previous clients. It will help you get a better picture of them. Taking a step further, you can cold email their clients to get a detailed review of the agency. You will get to know what kind of work they have done in the past, which will help you decide whether agency experience aligns with your requirements or not.
Pricing also plays a significant role in choosing an agency for your e-commerce application. You should compare agencies' prices and what they offer before making any final decision. Also, take into consideration the time of delivery, additional services they include throughout the application development process, and the period of post-development maintenance.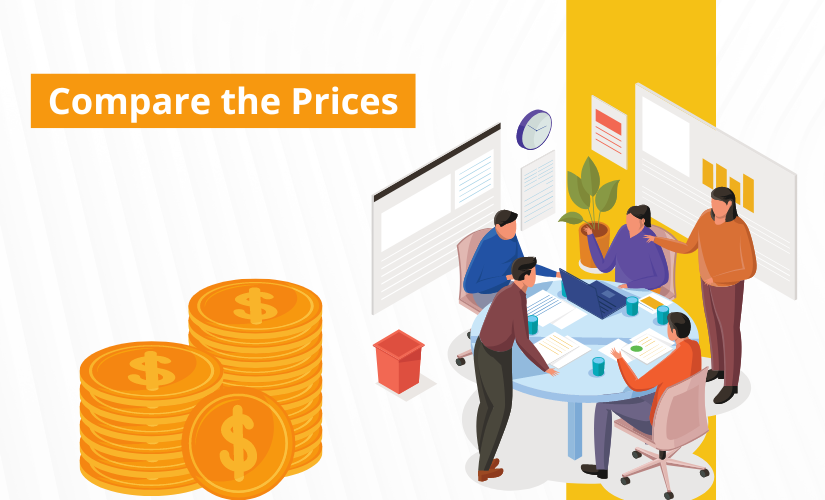 In the post-covid world, existing businesses have switched to online business, and increased numbers of new online businesses have been observed. Therefore, many e-commerce app development agencies opened and benefitted from this e-commerce app boom amidst covid. Due to so many options available, companies get confused about hiring a particular agency. However, there are multiple components to consider when contracting with an agency, but you should have the right approach and clear goals. Hence, follow the above steps to easily elect an E-commerce app development company for your mobile e-commerce application.
Want industry leaders Working On Your Project?