Amazon Audio Ads- Use the Voice to Boost Your Sales
If you are not taking advantage of Amazon Audio Ads, you are missing out on the opportunity to share your product with a wider audience. Currently, over 55 million people are using Amazon Music; it's an excellent opportunity to reach a broad spectrum of audiences. People use audio platforms like Amazon Music daily to listen to music and podcasts. They recognize their favorite voices immediately because we enjoy listening to the voices we love. So, it's clear that people react and connect to voice. 
The marketing tactics are changing with time, and businesses are promoting their product and increasing sales effectively in the form of amazon audio ads. Now, we'll go over all you need to know about using Amazon audio ads to expand your business.
Amazon Audio Ads: A Unique Amazon Advertising Platform
Audio ad is an excellent amazon advertising platform to promote your product and connect to Amazon Music listeners. It's the latest addition to amazon advertising services. Amazon ads are short audio ads played in-between songs or podcasts on Amazon Music. The duration of these ads is generally 10 to 30 seconds, accompanied by a banner image that appears on screened devices (clickable only on desktop, mobile, and tablet devices). With the right tactic, you can incorporate amazon audio ads into your digital marketing strategy. It will elevate your brand awareness and help you promote the products and services of your business.
Amazon marketing services also feature interactive audio ads allowing users to reply to Alexa's CTA inside the amazon ads, like adding items to the cart or receiving an email for more information about the product.
Why Are Interactive Audio Ads More Beneficial?
Amazon audio ads will reach beyond Amazon Music, and we will see a growth in interactive audio ads by the amazon marketing agency. In current times, many households use virtual assistants like Alexa. It allows people to control most things just by their voice. With Alexa becoming more and more common, the amazon advertising agency will surely expand its ads to Alexa, and Amazon will allow businesses to run audio ads on it. Since Alexa can interact with people, businesses will try to customize interactive audio ads for the users. 
You must be wondering why interactive audio ads work so well. First, these ads are much more engaging than static or video ads. Hence, it's evident that users are fascinated by the experience that interactive audio ads offer. Not only do interactive amazon ads engage better, but they also forge your brand recognition and significantly impact users with apt content. Interactive ads also make brands stand out from their competitors. Mobile games started the trend of interactive ads, but now, non-gaming companies also deploy interactive audio ads to appeal to users. To many users, interacting with ads is attractive, especially when they can try the product virtually, which the businesses are advertising. Thus, effectively using interactive ads can increase the chances of users transforming into customers. 
How to set up Amazon audio ads?
Now that you understand the amazon audio ads and their benefits, you are ready to deploy your ads. Here is a step-by-step explanation of the process: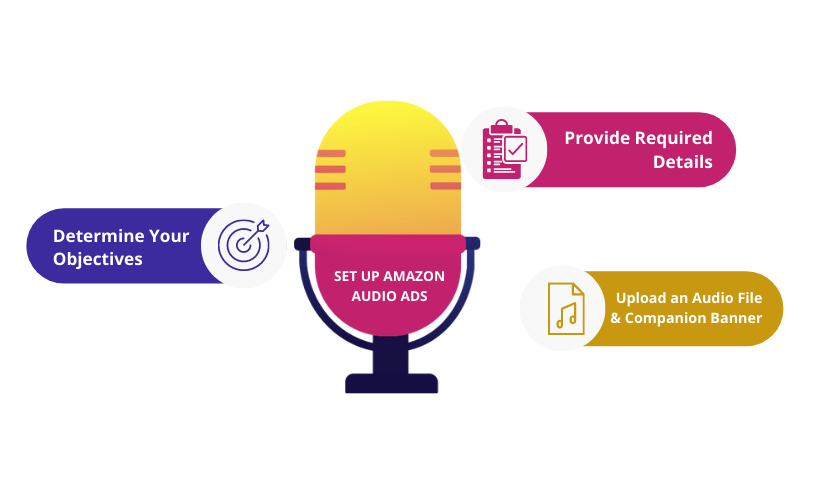 1.Determine Your Objectives
Before launching your ads, make sure you define your goals perfectly. This will give your campaign a creative direction essential for a great script and create mesmerizing designs for accompanying. Know your needs before going live with your amazon audio ad. 
2.Provide Required Details
Enter the country name in which you would like to advertise. Next, you should decide on your monthly budget. Keep in mind that there are two options available for advertising based on your budget. If your monthly budget is less than 15,000$, you cannot customize your campaign. You can customize your industry and choose audio ads if your budget is more than 15000$. Once you have decided on your budget, enter your company contact details and brief about your marketing needs. Soon, a consultant from the amazon advertising agency will call you to know your campaign in detail.
3.Upload an Audio File And Companion Banner
Your amazon audio ad requires both an audio file and a companion banner. The image for the companion banner will be shown when the audio ad is playing. However, you must keep these requirements in mind before uploading the files.
Requirements for Audio File
The audio file is your ad, so its duration should be 10 to 30 seconds long, and the file size can't exceed 1 MB. The compatible formats for submission are WAV, OGG, or MP3 files. And 192 kbps should be the minimum volume, so the ad is easily audible. Also, there should be no suggestive, provocative, or derogatory language. The ad must be acceptable to a broader audience.
Requirements for Companion Banner
While the ad plays, a companion banner or a graphic design is shown. Hence, you should keep some requirements in mind before uploading your creative. Initially, the companion banner must be a JPEG file of 1024 x 1024 px. The file size should not exceed 750 KB. Also, the limit for the headline is 19 characters; that's why your headline should be short and sweet. Make sure that your text is easily readable. Lastly, you need to follow some visual guidelines like any part of your ad should not look like it's clickable. For example, don't underline the words, so people don't click on them. 
6 Ways to Create Awesome Amazon Audio Ads
Remember that the maximum time you have for your ad is 30 seconds. So, you should try to make the most out of each second. Thus, we will give you 6 tips to utilize your time to attract users easily.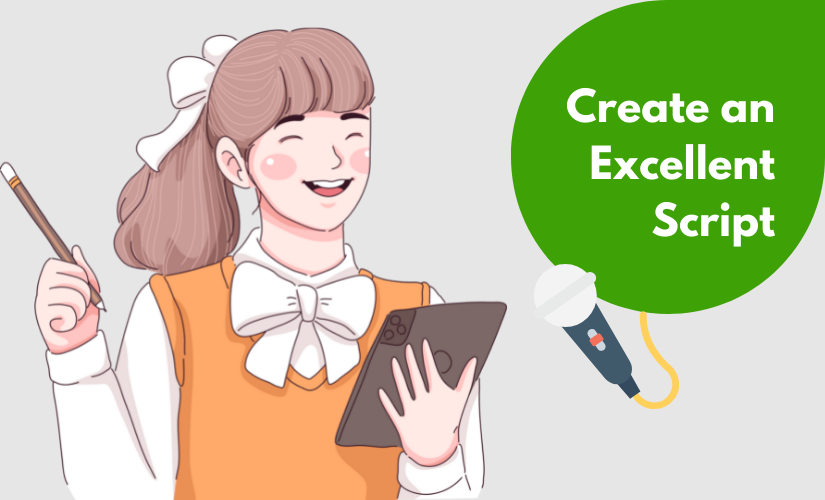 1.Create an Excellent Script
To make each second count, you need a great script first. And, for excellent writing, you need a good writer. So, ensure you have a good writer for your amazon audio ad. The writer should use short and simple statements to explain the product. Also, the writer should ensure that your language and tone resonate with your audience. And, you should remember not to confuse your listeners with multiple concepts in a single ad campaign.
2.Let Your Audience Know The Product Benefits
How will the audience benefit from your product? You should focus on why the audience should buy your product in your audio ad. Make this focus of your campaign. Also, mention any exclusive offers if they are available. Knowing about exclusive offers will encourage the audience to buy something.
3.Record High-Quality Ad
Although obvious, you should guarantee that your audio is clear and professional. To ensure high quality:
Talk in a clear, sharp voice and record in a quiet environment.

Don't speak too quickly.

As a result, talk slowly and with feeling.
Here, your goal is to connect with your audience.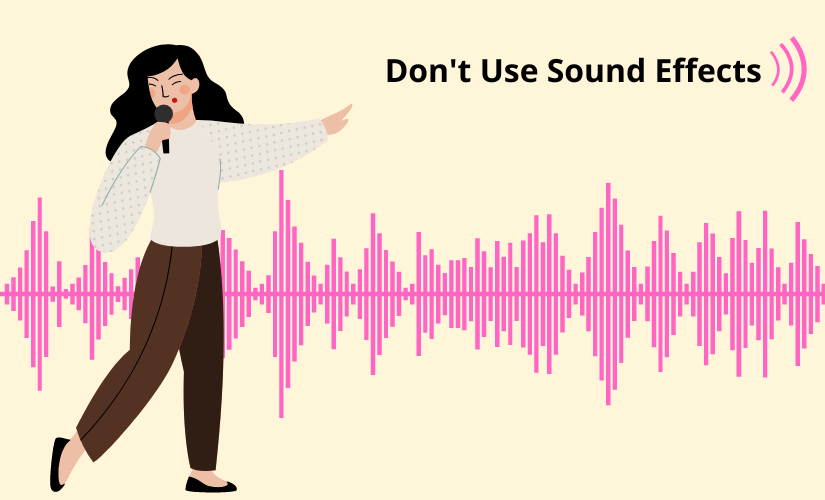 4.Don't Use Sound Effects
An audio ad doesn't need any climactic music. Don't forget you are recording an ad, not a movie's climax. Loud music or effects can divert the listener's attention or irritate them. This isn't great when trying to make users buy your product. If your ad needs music, use them in moderation and keep them subtle and pleasing to the listener's ears.
5.Make Use of Smooth Transitions
Your ad plays in between songs or other audio ads. So, don't start with an apology for interrupting the music. Or don't add a long pause at the beginning of the ad itself. This will make the listener impatient. And, the chances are he will close the app. Try to include smooth transitions to hold your listener's attention. Also, avoid long fade-outs and keep it short also. End your ad with a CTA( Call to action).
6.Keep Your Brand Message Consistent
Ensuring all-around consistency is beneficial for your business campaign. Ensure your brand messaging, language, and imagery are consistent throughout your marketing campaigns. If your ad sounds inconsistent, it would work against you and prevent the listeners from buying your products. Cross-platform consistency can increase your sales by 23%, according to Forbes. 
Make The Switch to Amazon Audio Ads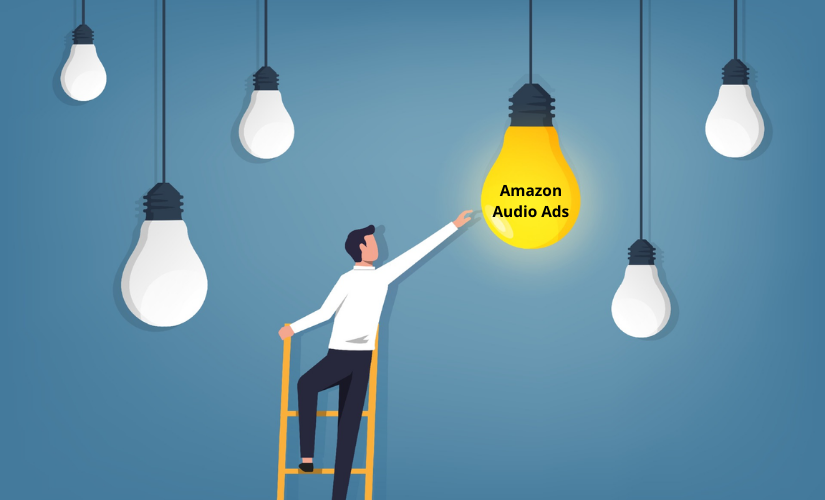 Interactive audio ads by amazon marketing services are still new in the market, but we believe they are practical and will skyrocket in the coming years. Amazon audio ads are a great opportunity as it allows the businesses to target over 55 million users of Amazon Music. And this number will increase in the future, allowing advertising to a large audience with minimum charges. Right now, the rates for amazon audio ads are on the higher side. Amazon advertising services are not feasible right now for small businesses. However, with an increase in the number of enterprises using amazon audio ads, Amazon marketing agency will introduce more reasonable rates. Therefore, small businesses will also be able to utilize the audio ads for their growth at decent rates. The beneficial impacts of these ads are quite clear- better conversion rates, satisfactory engagement, and improved brand recall. Thus, we can expect to see more businesses experimenting with the audio ad of amazon advertising services.
Want industry leaders Working On Your Project?