Mobile apps are a routine of our everyday lives because there are already approximately 7 billion registered smartphone users worldwide. Considering the part of the money they generate, there is no logic in giving them up. Before anything else, it is essential to comprehend an app development cost.
Whenever a customer reaches us with an application, this is often one of the initial queries they ask. "How much does app development cost" typically, the expense for a mobile app design and development is between $40K and $150K, yet, based on the project, it can surpass $300K.
The cost for app development is something that everybody who desires to do it must be aware of. Before you start, comprehending all the features that influence the price of developing apps is essential. Depending on the grade and functionalities you want your app to have, this is a complicated method that might command a significant amount of money.
Variables Affecting the Cost of Developing Mobile Apps
Numerous factors influence the price of developing an app. While some of these factors are more crucial than others, all of them need to be considered when figuring out the cost of app development.
1. The Type of Application You Desire to Create
The sort of application you would like to form is the initial consideration. Presently, there are three preceding categories of apps: hybrid, native, and web.
Native applications are created particularly for a single operating system, such as iOS or Android. They use functions integrated into the gadget and thus programmed in the language native to that platform.
HTML, CSS, and JavaScript are used to create hybrid apps placed inside a native container. Although they can now release across various platforms, they typically don't function as effectively as native apps.
Web applications are mobile-friendly websites with the same user understanding as native apps. They are created with the aid of HTML, CSS, and JavaScript and usually function within a web browser.
2. Your Ideal Development Platform
The medium on which you wish to create is the following factor. Android and iOS are the two most popular platforms. It's vital to pick the most suitable option for your app because each has distinctive requirements and regulations that must be fulfilled.
3. The Functions and Attributes Your Application Should Have
The features and functionality you expect your app to have are crucial concerns. Since creating more options and qualifications will require longer, this will have a notable monetary impact.
4. The Layout of Your Application
Your application's appearance is also crucial. It contains elements like menus, icons, and navigation. You must presume about the appearance, ambience, and customer engagement, which mobile app designers may assist.
5. Your Choice of an App Development Team
The group you employ to construct your app is the final consideration. This comprises the team's size, geographic location, and status of expertise. The price of inventing an app will be impacted by all of these factors.
After discussing the key aspects that concern app development cost, let us glance at a certain recommendations for minimizing expenses.
Learning these characteristics will help you in decreasing your problems and, also it will help you in saving time and money.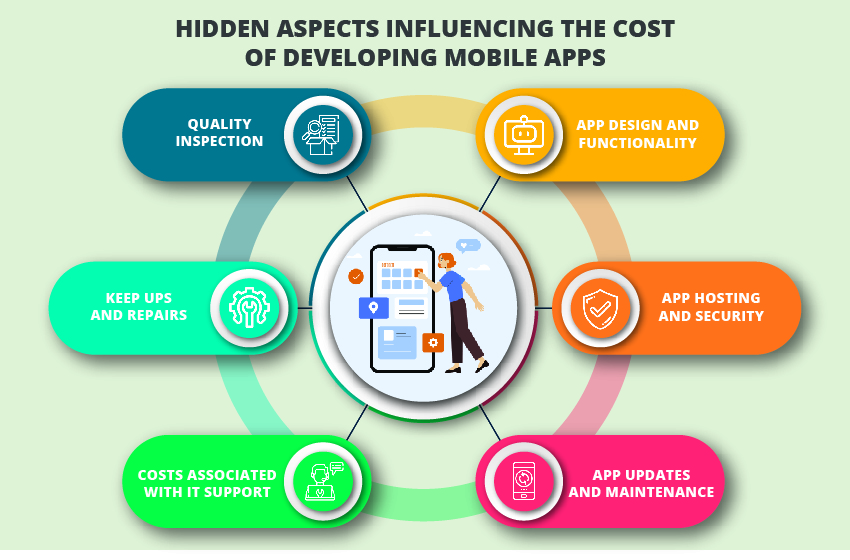 Quality inspection: The app development cost doesn't end after its development. To confirm that the app functions correctly must be evaluated on various hardware and operating systems after it is released. The expense of this procedure, often known as quality assurance (QA), may increase by 20% or over.
Keep ups and repairs: Service charges will continue to accrue once an app is released. Upgrades to software, additional features, and repairs are all included in this. The yearly cost of such expenses may be between 10% and 20% of the entire cost for app development.
Costs associated with IT support: Whenever you intend to release your software across several systems, you should have an IT support specialist in your staff. Establishing a database server, overseeing user profiles, and resolving technical difficulties are all included in this. These expenses might make up 5% to 10% of the entire cost of app development.
The Average Cost to Develop Various Mobile Applications
After discussing the key elements that affect app development costs, let's examine some particular cases. The estimated costs for creating various kinds of mobile apps are listed below:
1. Price of Developing a Marketplace App
An amalgam of multiple various app categories, including eCommerce, social media, and content, is a marketplace application. The capabilities and features you wish to include would determine how much it will cost to design a marketplace app. An essential app will cost you between $50,000 and $250,000.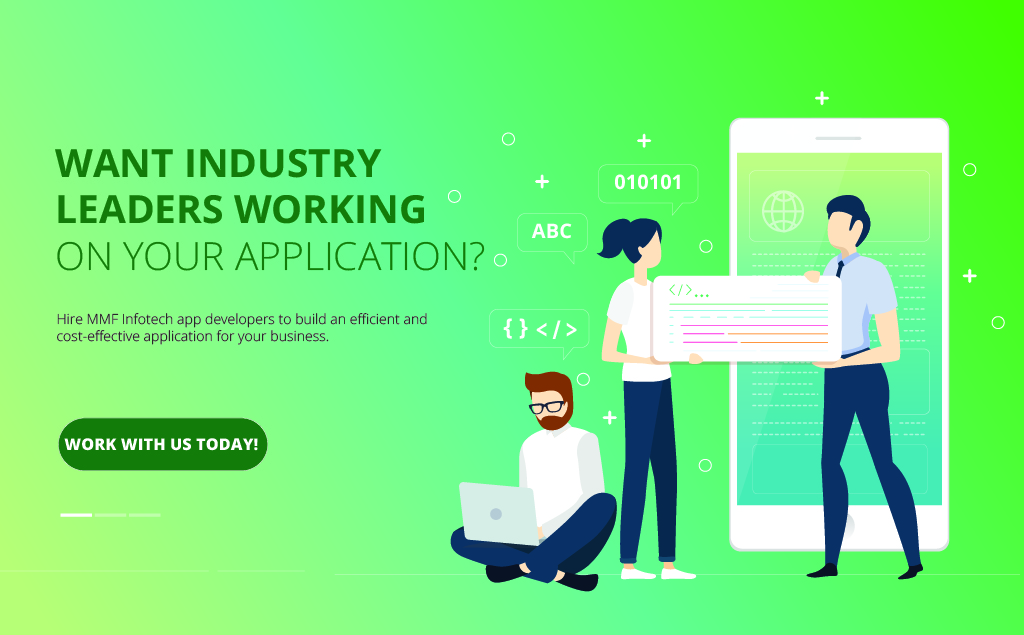 2. The Expenditure of Creating a Social Media Application
An app for social media connects users and enables content sharing. The capabilities and features you wish to include will determine how much it will cost to design an application for social media. Meanwhile, a primary application costs between $60,000 and $300,000.
3. Price of Building a Dating App
An application that enables users to communicate and maybe begin a connection is a dating app. These applications are typically relatively straightforward to use. The characteristics will determine how much it will cost to design a dating app. A fundamental app should cost roughly $45,000.
Strategies For Reducing Cost of App Development
You can take measures to lower the cost of app development. Here are a few pieces of advice and tips:
Be specific with your ideas: The first guidance is to be explicit with mobile app development businesses concerning your needs. It entails making a thorough plan for your app's functionality and aesthetics.
Make use of the agile development methodology: Utilizing an agile development approach is another suggestion. It makes adjustments easier to make and lowers the possibility of expensive errors. The needs are broken down into manageable bits and created independently as part of iterations.
Employ fixed price contracts: A fixed-price contract is another way to cut costs. It implies that you and the development team will negotiate a price before starting the project. It gives you greater control over the finances and can assist you in avoiding unforeseen charges.
Our Closing Statements
We recommend being explicit regarding your objectives, utilizing an agile development methodology, and selecting the best app development team if you want to cut costs. Contact MMF InfoTech's to hire app developers who will unquestionably produce a brilliant job. Our team includes professional mobile app developers providing you with best IT solutions and services.
In summary, several variables, such as the app's qualities, the functionality you would like to include, the development company you select, and the agreement you sign, will affect the overall cost of developing an app.
FAQs
Q1. How much does it cost to build your own app?
The potential cost is the amount your company could develop if you spent the time needed to create an app instead independently. Financially speaking, it is practically free. A small fee of $25 and $99 is required to list your application on the Play Store and App Store.

Q2. What is the cost of hiring an app development company?


The precise figure will rely on what you require your application to accomplish. To operate everything flawlessly, additional capabilities will 
necessitate additional time.

Q3. How Much Does a Mobile App's Maintenance Cost?


A mobile app's annual maintenance costs will be about 25% of the overall cost of developing the app.

Q4. Is Cross-Platform App Development Cheaper Over Native App Development?

Yes, if your product fits the ideal cross-platform development concern, you can form two apps (for iOS and Android) for a lot less money than it would cost to create two independent native apps.