Amazon generated overall net revenues of 87.44 billion USD in its most recent quarter, up from 69.98 billion USD in the prior quarter, according to Statista's most recent estimates. With these numbers, it is evident that Amazon will keep growing, opening up additional possibilities for independent sellers with their fingers on the eCommerce pulse. 
What is Amazon Product Listing? How to Optimize Amazon Product Listing?
The product page for each thing you sell on Amazon is known as an Amazon product listing. Your products' success on Amazon will depend on how well the product listing is done. Although an Amazon product listing serves several purposes, these two are its primary ones:
Enables Amazon searches to find your products.
Motivates customers to buy your items.
Increasing traffic and conversion through Amazon product listing optimization is the process of improving your listings. One of the most essential strategies for keeping your product at the top. 
Here are the eight stages to properly optimize your Amazon product listing. 
Title of the Product
The maximum length for product titles on Amazon is 200 to 250 characters. Include the most pertinent information, consider the brand, model, size, number, colors, and other factors.
Suggestions:
The initial letter of each name should be written in capital letters. 
Replace ampersands with "and" (&).
All numbers must be written as numerals.
Product images
You can upload up to nine product photographs to Amazon, one of which must be the lead image. Use high-quality infographic images.The product should occupy at least 85% of the photograph, according to Amazon.
Important product features
You have 1,000 characters on Amazon to describe your product's key features. Emphasise the characteristics of your items that set them apart. All five points of your listings will be indexed if you use 200-character bullets. Suggestions:
Outline a benefit of the product before listing its features.
Addresses questions that customers could have before buying.
Product details
You have 2,000 characters on Amazon to tell potential customers about your product and what it does. As is customary, make an effort to expand on the features described in the previous section using as many characters as possible.
Suggestions
This area is necessary because the product description will appear before the bullet points.
There are no advertising buzzwords like "free shipping" or "discount."
Keywords
Sellers should be aware of the keywords they are targeting and ranking to optimize the product listing. It would be best if you utilize keywords where it makes sense on your Amazon product page, including in the title and product specifications.
Suggestions:
Your product's title should have top keywords
Include up to 249 bytes of additional crucial backend keywords in the "search terms" field (also known as "common keywords").
Search Term Fields
The maximum keyword length for the standard Search Terms field is 250 bytes. These words need to be the only ones in your edition.
Product Reviews
There are many techniques to increase the number of reviews you have. Exceptional customer care generally increases the likelihood that a consumer will submit a review. Additionally, you may utilise package inserts to promote on product testing websites or get consumer feedback.When using the latter option, follow Amazon's review criteria. 
Product Score
Having a top-notch product that you precisely described is the best method to earn four or five stars. 
What is The Role Of Amazon A9 Algorithm in Amazon Product Listing?
1. Sales Performance
Amazon benefits significantly from a high sales velocity. Therefore the A9 algorithm will examine sales data and raise rankings for items that sell well. You will rank higher on Amazon the more sales you generate. You may feed the flywheel effect by accelerating sales that will generate favourable customer reviews with a better conversion rate and higher sales velocity.
2. Price
If you price your products sensibly and competitively, your conversion rate will rise.The prices can significantly impact your conversion rate and sales performance you select for your Amazon products. Make sure to conduct a comparative analysis to learn the prices at which your rivals display comparable products.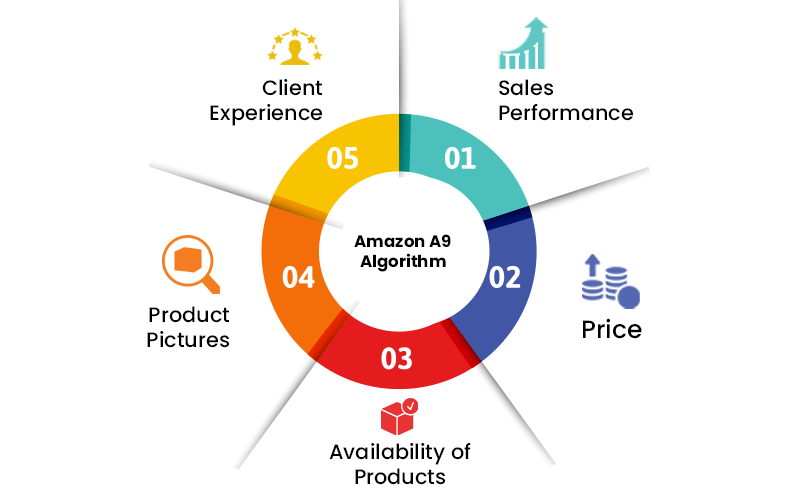 3. Availability of Products
The number of products in stock in the past can help determine its ranking in a given product search. Your sales performance will suffer if, for instance, you raise prices to use up the remaining inventory you have on a specific.
4. Product Pictures
Despite not being a direct performance-related Amazon ranking criterion, photos are significant for your click-through and conversion rates. Your product photos display when a customer clicks through the product detail page. 
5. Client Experience
Strongly rated (four stars or higher) products are more likely to appear higher in Amazon search results than those below four stars.90% of consumers check out Amazon's product reviews while purchasing.
What Should We Do to Ensure The Best Amazon Product Listing Optimization (APO)?
To make sure you're turning clicks into revenue, abide by these 6 best practises and tips:
Sellers can enhance their product detail pages with A+ content by adding more pictures, text, and videos and product descriptions.
Products that customers are looking for have a specific category. If your product is mistakenly classified, it will not be considered.
Avoid making separate product pages for items in various sizes and colours.
Free delivery is a quick and easy strategy to raise your conversion rate because it motivates nine out of ten customers to purchase.
How to List a New Product on Amazon?
An instruction manual for adding a new product on Amazon.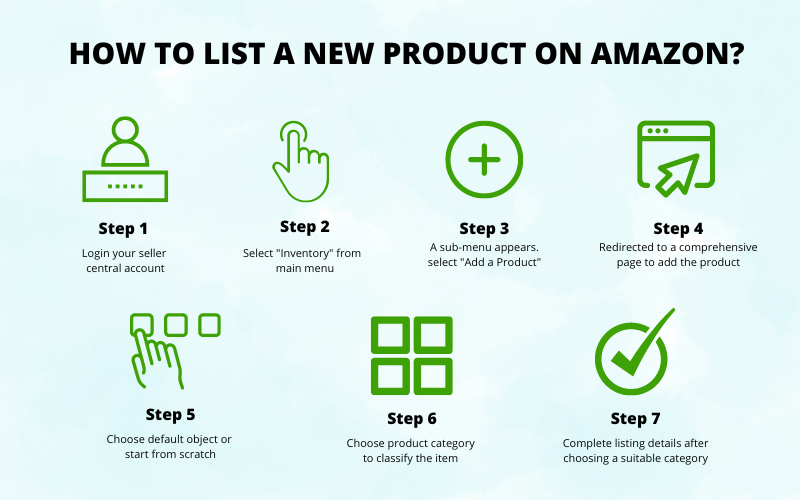 Open the dashboard after logging onto your seller central account.
Select "Inventory" from the main menu. 
A sub-menu appears. From the list, select "Add a Product."
A comprehensive page where you can add the product will be redirected to you.
At this point, you can choose an already created object or start from scratch.
Choose the product category to classify the item you sell.
You can complete the product listing details after choosing a suitable category.
How Does Product Listing Optimization Impact Customer Decision Journey?
One cannot mention the necessity of Amazon Listing Optimization without considering the Consumer Decision Journey, as they are mutually dependent.
Availability
You should take into account the ownership of the Buy Box as well as the availability of the inventory. It will not lead you to a higher rank if product listing is suppressed due to low inventory stocks.
Discoverability
Discoverability includes both organic and paid presence, so in addition to optimise for keywords in your product category, you need also make sure that your products are visible easily.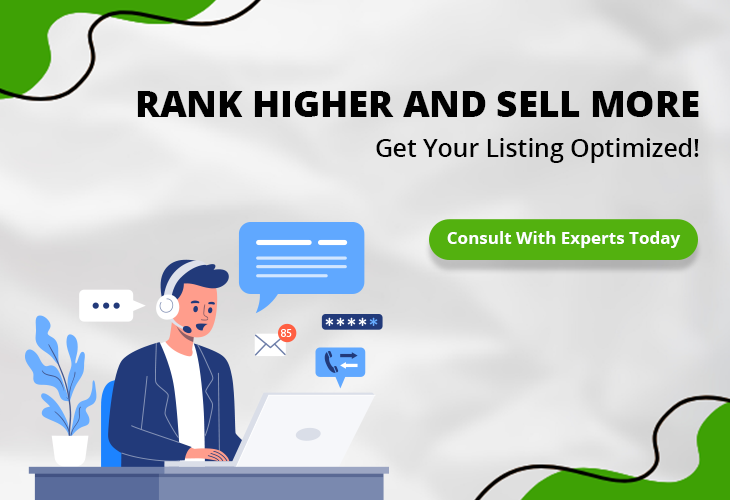 After-sales
The presence of returning consumers, or customer retention, signifies that a post-purchase procedure has been built. 
Hire Amazon Product Listing Experts 
The ultimate aspect of Amazon optimization is ensuring that the listing price is competitive. In an environment where competition is fiercer than ever, and numerous sellers are offering the same products, price is of the utmost importance. Keeping your Amazon listings up-to-date and flawless is one of the most time-consuming tasks. As an intelligent solution you can get product listing optimization services with the best amazon marketing agency, MMF infotech help you keep your listings competitively priced. They has more than a decade of experience and will help you get the sales and revenue you need on Amazon.
Frequently Asked Questions
Q1 How to List Products on Amazon in The USA?
Step #1: Open a Seller Central account on Amazon.
Step #2: Download the appropriate template for a product listing.
Step #3: Correctly complete the product listing template.
Step #4: List the items.
Step #5: Fix any mistakes or issues with the product listing.

Q2 Can You List Products on Amazon for Free?

YES! Not just for major brands, Amazon exists. Amazon is open to all sellers. The creation of an individual account is free, however each transaction you make on Amazon requires you to pay a fee of $0.99.  It costs you nothing to register as an Amazon individual seller. 

Q3 How to Improve Amazon Product Listing (write in bullet points) 

To improve your listing follow the tips below:
Improve Your Titles.
One image can convey a thousand words.
Enhance the Bullet Points.
Optimise the product Descriptions
Encourage client reviews.
Don't disregard SEO.
Understand Your Customers.
 Q4 Can I Sell on Amazon Without a Store?

To sell on Amazon, you do not require a physical store. A physical store may be an unnecessary expense you should avoid in the e-commerce era. After completing the registration process on Amazon, you will have access to our Seller Central portal, where you can list your goods for sale on Amazon.

Q5 Does Amazon Have Listing Limits?

There is no limit to the number of products that sellers can upload in Amazon Seller Central. And, for each product listed, the seller can update its listing (title, bullet points, description).